Martin Scorsese MasterClass review synopsis
What you'll learn: Learn about the art of filmmaking from legendary Academy Award-winning filmmaker Martin Scorsese
How long does the MasterClass take?: Scorsese's MasterClass is comprised of 30 lessons that take 4 hours and 35 minutes to complete.
Similar Courses: Ron Howard, James Cameron, Samuel L. Jackson, Werner Herzog, Annie Leibovitz
Do I recommend Martin Scorsese's MasterClass?: Yes, Martin Scorsese's MasterClass is time well spent for anyone who dreams of making a film.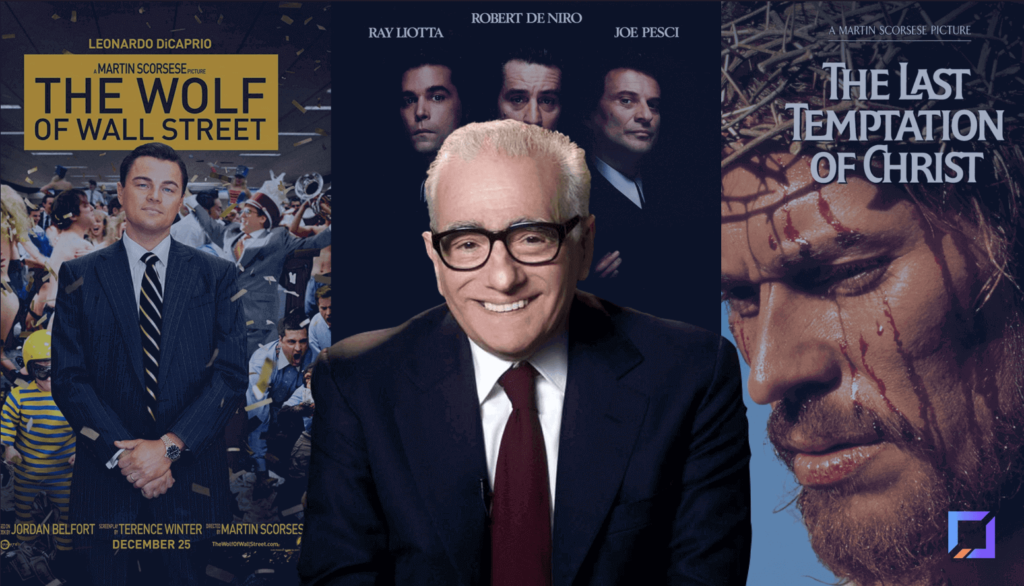 When you talk about great filmmakers, and even, dare I say, the greatest filmmaker of all time, the name Martin Scorsese is in the conversation.
With absolute classics like Raging Bull, Goodfellas, The Last Temptation of Christ, and even new classics like The Wolf of Wall Street and The Irishman, Scorsese has a portfolio of work unmatched in its quality.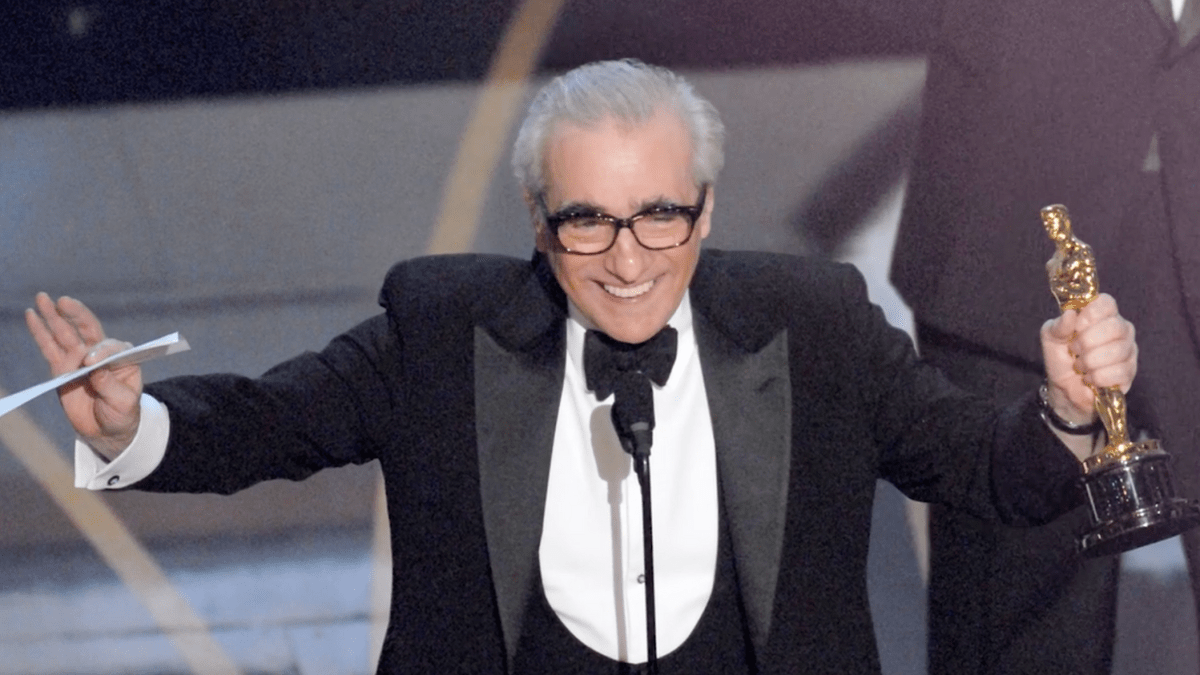 So, how would you like to learn how to make a movie from him?
You probably think that something like that will cost thousands of dollars, but with a MasterClass subscription, you can spend four and a half hours learning the art of filmmaking from one of the greatest directors who has ever lived.
But, that begs the question, is the course even any good? After all, not every great artist is a good teacher.
So, should you take the Martin Scorsese MasterClass? Is it a worthy investment of both time and money?
Spoiler alert: yeah, it's pretty great.
Read on to learn the course's pros and cons, how much it costs, what it includes, and how you can change your perception of the filmmaking process with the Martin Scorsese MasterClass.
Disclosure: In the interest of full transparency, Codeless uses affiliate links in our MasterClass reviews to cover our site's costs.
Our Verdict
If you want to be a filmmaker, take this MasterClass. It's an opportunity to learn from one of the best ever, and the course has some stellar bonus content.
Martin Scorsese Masterclass
Become a Pro at filmmaking
PROS
Tells you where he's teaching the class from and why that's significant for him
Detailed instructions from an all-time great
Closed captions in Spanish and German
Uses movie clips to illustrate his points
Covers the promotional side of feature films
Dissects scenes from films other directors
Active community
CONS
He comes off as snobby sometimes, passing judgment on what is and is not cinema
Doesn't do scene examination of his own films
In this MasterClass review, you'll learn:
A few frequently-asked questions…
Do I need a subscription to access this course?
Yes, you need a MasterClass subscription to take this filmmaking MasterClass. The Standard plan starts at $15 per month.
How long is the MasterClass?
In its entirety, the Scorsese MasterClass includes 30 video lessons that last for a total of 4 hours and 35 minutes.
Does MasterClass have a cancellation policy?
All MasterClass memberships include a 30-day money-back guarantee.
Is the Martin Scorsese MasterClass worth it?
If you've ever dreamed of making your own film, the Martin Scorsese MasterClass is a great investment of your time and money.
Become a student of Martin Scorsese.
About Martin Scorsese
Many critics, directors, and regular moviegoers consider Martin Scorsese one of the greatest filmmakers of all time.
That's not a title people throw around lightly, but the man has the portfolio to prove it. Scorsese was the mind behind masterpieces like Goodfellas, Raging Bull, Taxi Driver, The Last Temptation of Christ, The Departed, Gangs of New York, The Irishman, and The Wolf of Wall Street, among many many others.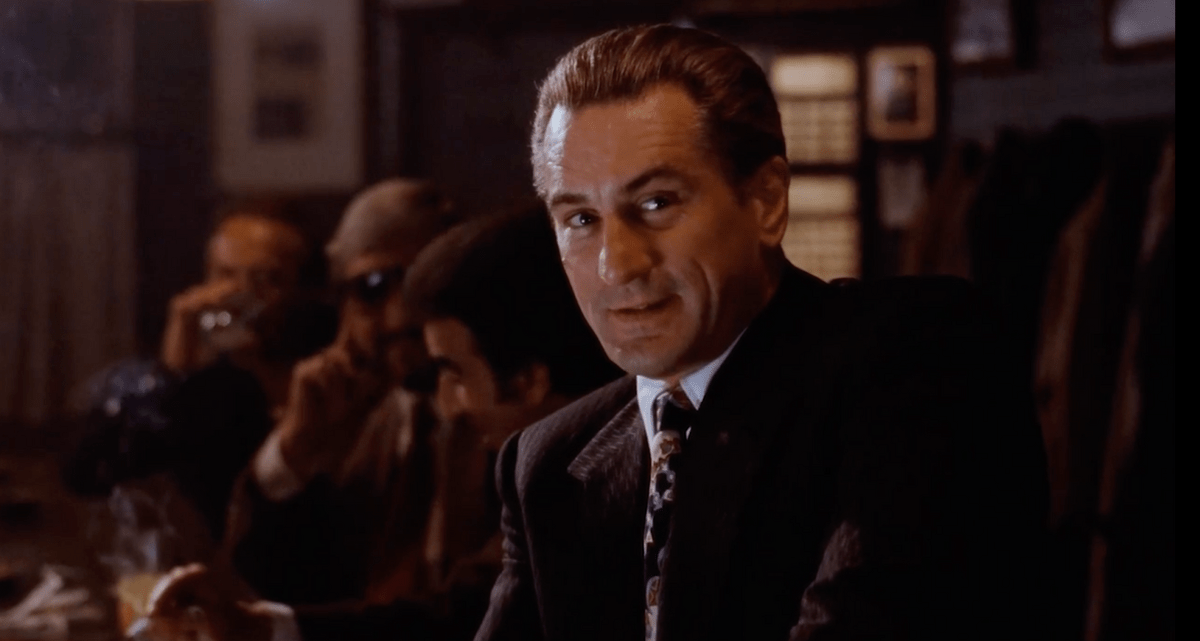 He has been nominated for 14 Academy Awards but has only won once, taking home the Best Director award for The Departed.
How much does Martin Scorsese's MasterClass cost?
Scorsese's MasterClass is included as part of a MasterClass subscription. With your membership, you not only get access to Scorsese's class — you can also take courses taught by other notable filmmakers and storytellers such as James Cameron, David Lynch, Werner Herzog, Ron Howard, Neil Gaiman, and many more.
Here's how the subscription levels break down: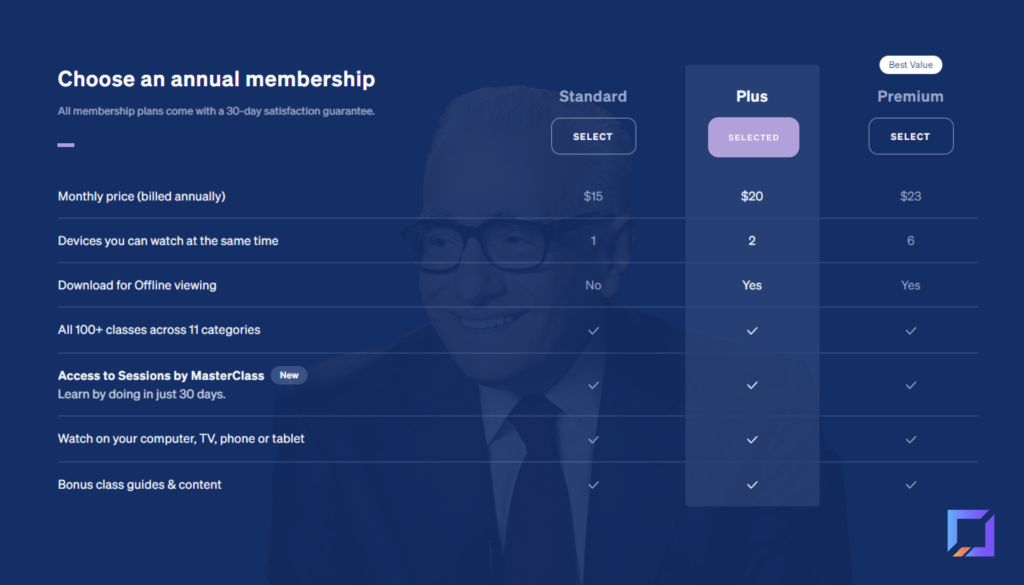 First, you've got the Standard Plan for $15 per month billed annually. It comes with access to the entire MasterClass library. Each course comes with a workbook, bonus content, and access to a members-only community forum called MasterClass Hub. You can only watch classes on one device at a time, whether on a computer, TV, phone, or tablet.
The Plus Plan costs $20 per month billed annually. It includes everything from Standard, plus you can access classes on two devices simultaneously. You can also download videos on iOS devices.
Finally, you have the Premium Plan, which costs $23 per month billed annually. On top of everything in the Plus Plan, you can also watch classes on six simultaneous devices.
Choose a MasterClass subscription plan.
What is included in the Martin Scorsese MasterClass?
Runtime: 4 hours and 35 minutes
Course Value: 4/5
Lessons: 30
Supplementary materials: Supplementary workbook and access to the online community.
Supplementary workbook
MasterClasses all come with a supplementary workbook to help internalize what you learned. They can often be a bit monotonous, with most pages proverbial walls of text.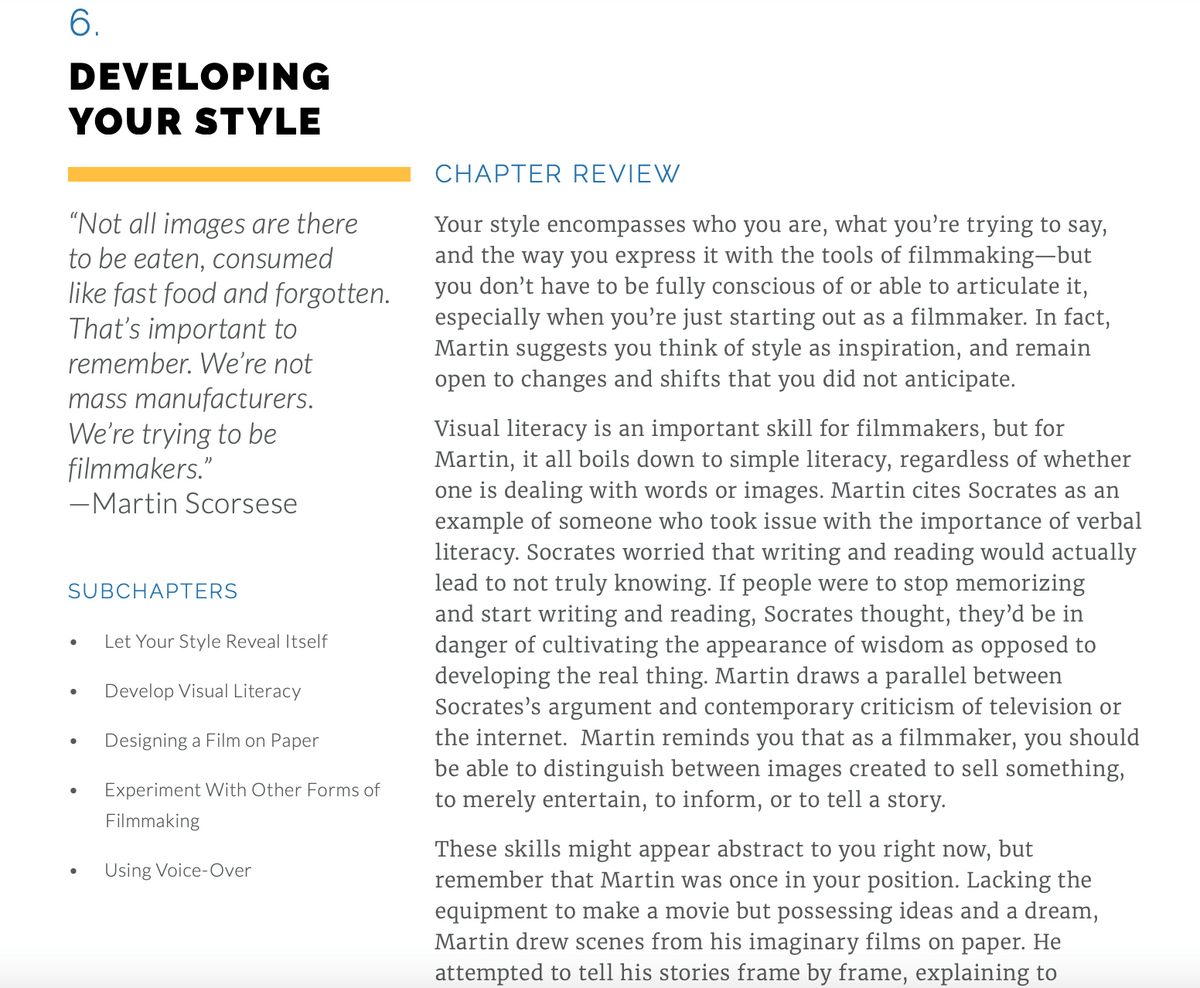 Scorsese's MasterClass workbook starts out like the others, only recapping lessons, but it gets better. Intriguing images and visuals start to break up the monotony, including an actual storyboard from his classic film Raging Bull.
The MasterClass Hub
Martin Scorsese's MasterClass also comes with a dedicated MasterClass hub — an interactive message board for students to share ideas, experiences, and questions.
(This is a community forum; Martin Scorsese isn't there participating in threads.)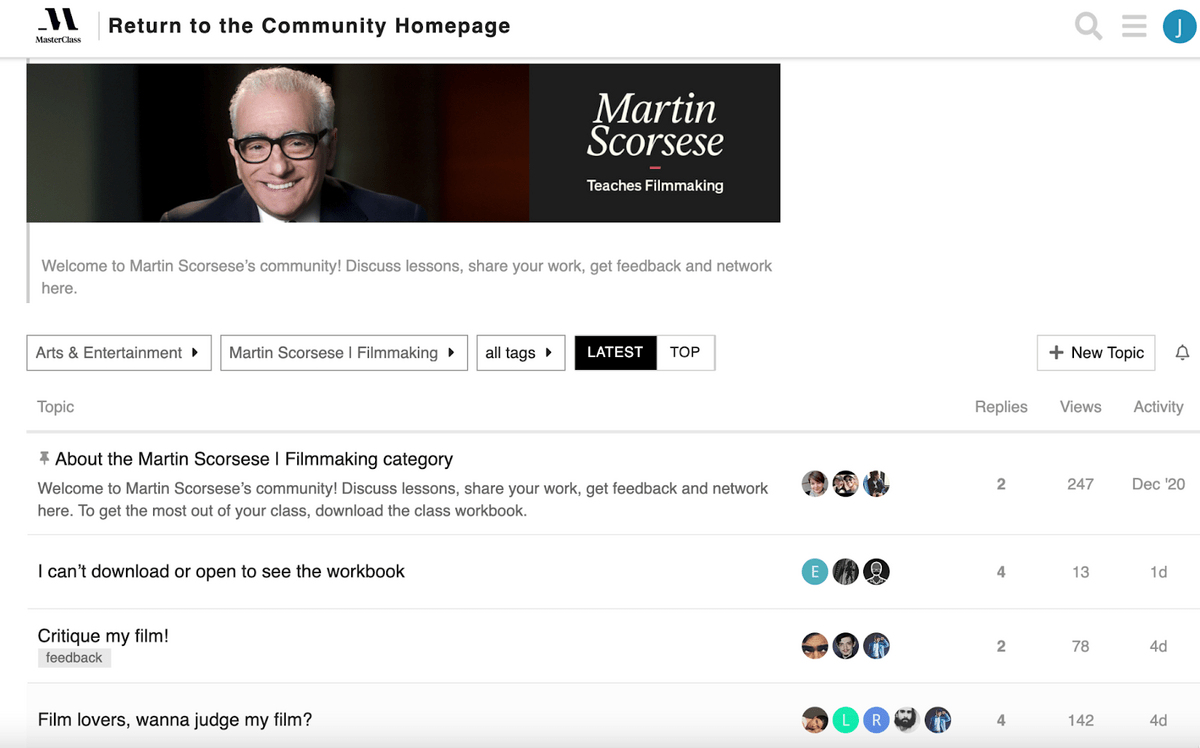 While some Hubs are pretty quiet, Scorsese's is thriving with activity. Students ask and answer new questions and share their films every week. Some threads even have more than 450 responses.
A complete breakdown of the Martin Scorsese MasterClass curriculum
As you'd expect from someone with Martin Scorsese's depth of experience, this is a long and involved MasterClass.
He has put together a curriculum that starts with personal anecdotes and talks about nearly every aspect of the filmmaking process.
There are 30 lessons in this class, which I'll break down for you now.
Curriculum:
Introduction
Beginnings
Martin's Education
Discovering Your Process
Channeling Your Influences
Developing Your Style
Directing & Technology
Finding the Story
Working With The Script
Casting Actors
Directing Actors
Locations
Production Design
Costume Design
Understanding Cinematography
Shooting Low-Budget Films
Working With Crew
Editing: Part 1
Editing: Part 2
Color
Choosing Black and White
The Importance of Sound Design
The Power of Music
Promoting Your Film
Scene Discussion: Barry Lyndon
Scene Discussion: Out of the Past
Scene Discussion: Jules and Jim
Scene Discussion: Vertigo
Scene Discussion: 8 ½
Finding Your Way
Course summary:
Scorsese starts his MasterClass by talking about himself and how he feels film is incredibly personal — he believes filmmaking has to speak to your journey.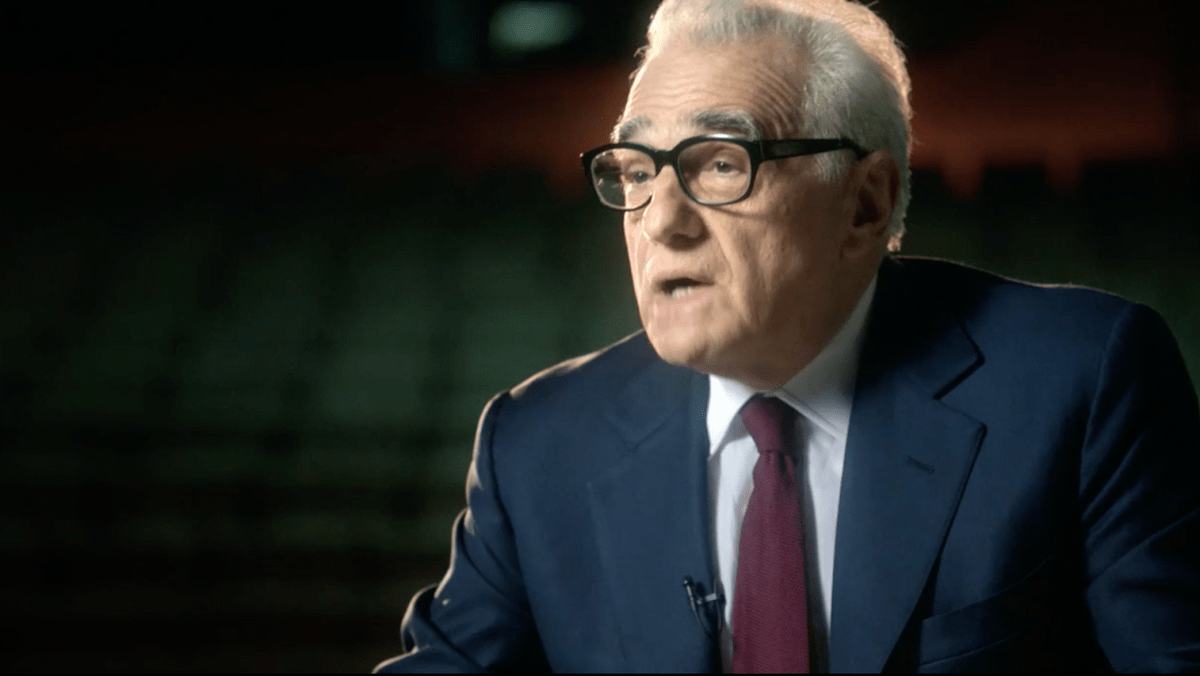 He starts off sitting in an empty movie theater, which he introduces as the location of the New York Film Festival, a deeply personal place to him.
He keeps going back to how personal filmmaking is for him, and you can feel that throughout the entire 4 hours and 35 minutes. It's personal to him and, if you're taking this class, he wants it to be personal for you.
But that's also one of my few issues with this class: Scorsese acts as a gatekeeper. He has strict opinions on what constitutes "cinema" and who should be making films. He straight up says that if you look at filmmaking as a career, then this isn't the class for you.
In his view, only if you're burning with passion and you "need" to make a film can he teach you.
I get where he's coming from, but it feels a bit over the top and almost elitist. Ron Howard is the polar opposite in his MasterClass. He's all about helping people, and the entire thing feels very inclusive and welcoming.
On the other hand, Scorsese lays out a list of criteria — passion and dedication are must-haves. But if you meet that bar, then this course is just what the doctor ordered.
Scorsese walks you through the entire filmmaking process, from conception and style development to casting, working with actors, using new tech, working with a script, finding locations, production design, costumes, music, cinematography, working with the crew, editing, and so much more.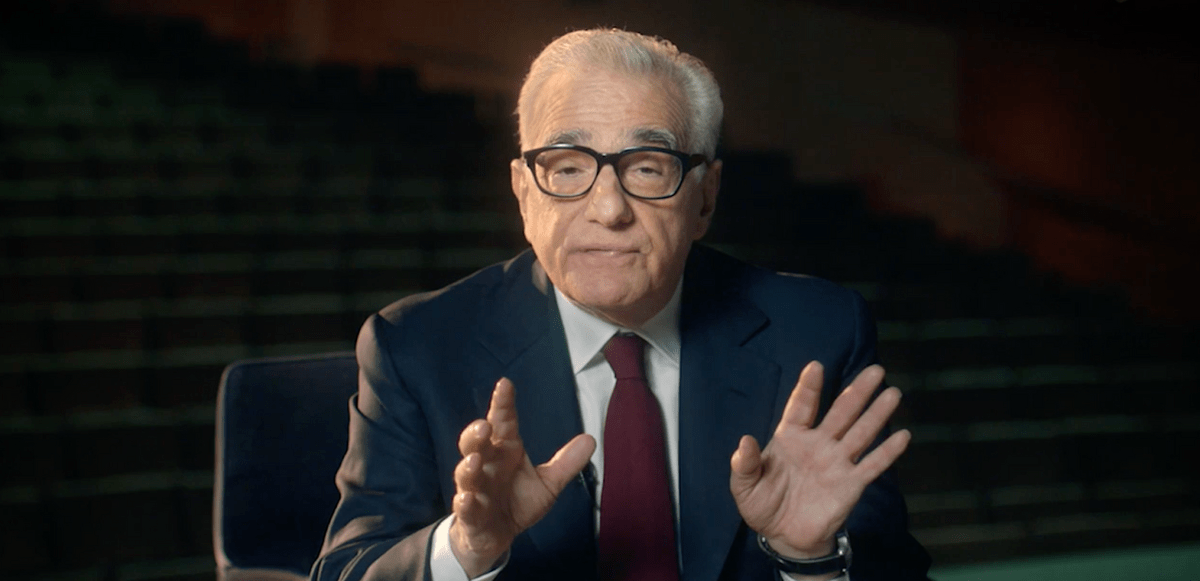 He even goes beyond filmmaking and walks you through your responsibilities as a director when promoting the film before and after its release. That's something I haven't seen in any other course from a director.
After that, he breaks down famous scenes in a scene study. You might be excited by this because you think you're going to be examining Taxi Driver or Goodfellas.
Instead, he examines the work of other directors in this section. Don't get me wrong, he shares some great insights on scenes from the likes of Alfred Hitchcock, but his fans might have wanted his insider look into his own greatest works.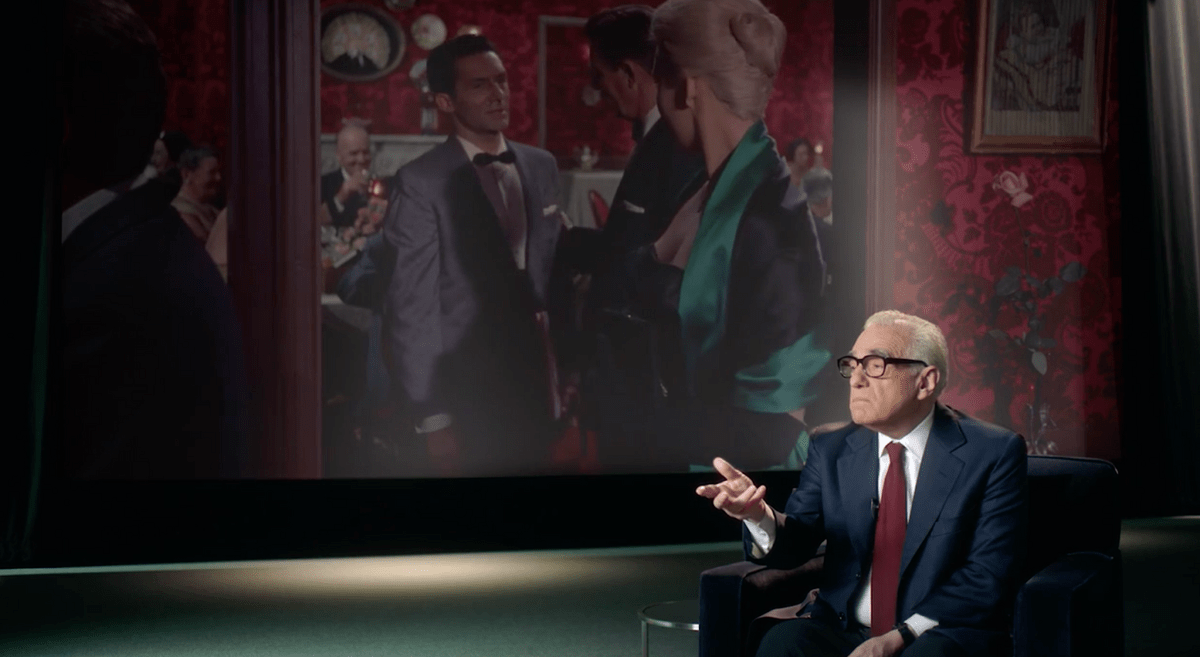 There's some of that in other lessons, complete with clips, but not five-minute deep dives the way these studies are.
What I learned
Have you ever known someone who is exceedingly arrogant, but they're so gosh darn talented that you have to accept that they're awesome?
That's how I feel about Martin Scorsese.
There's a lot I took away from this, and there's a lot you can too.
But, please, just remember that cinema is whatever you like — regardless of what Scorsese might say.
OK, let me climb off my soapbox, and we can start sifting through my major takeaways from this MasterClass.
8 takeaways from this MasterClass
1. Moviemaking should be personal:
It's highly personal for Scorsese, and he highlights this right away. He's here to teach the people who have a burning need to tell a specific story, not someone looking for a career.
2. You always have to find your own way as a filmmaker:
He stresses that he doesn't have a magic blueprint or shortcut. All he can do is provide some personal anecdotes and practical advice, but it's up to you as an aspiring filmmaker to establish your style and find your way.
3. You need guidance from pros:
Scorsese shares specific moments where experienced pros gave him critical advice that helped a film. He was shooting The Last Temptation of Christ and was going to film the first scene first. Someone came to him and said they should film another scene first for logistical reasons. While he wanted the luxury of continuity, he realized that he couldn't have it and took the advice.
4. You have to be flexible when shooting a movie:
Sometimes the work takes on a life of its own. If you have everything planned out meticulously, but something else comes along while shooting that feels more natural, be open to taking that alternate route. For example, dark humor started to emerge while shooting Goodfellas, and he was open to it. That came from working with the actors.
5. You need to draw on the work of other directors:
Don't be afraid to draw from your influences. There are shots from 1949's The Small Black Room that influenced important scenes in Taxi Driver.
6. Life is cinema:
When your brain thinks in terms of cinema, you start to see it everywhere in life. As an asthmatic child, Scorsese had to sit out of activities, and often all he could do was watch. That gave him a cinematic eye. He felt he was observing life, but in reality, he was interpreting it and translating it.
7. The story you choose should be close to you and important to you:
Especially early on, the story you dedicate yourself to has to be personal if you're going to pour your heart and soul into it. You truly have to understand and appreciate it on a very personal level.
8. Editing is all about experimentation:
Ultimately, when you're cutting a movie together, you end up using a lot of stuff you didn't think you would use. You have to check out everything because sometimes what you thought was perfect actually isn't.
Find your takeaways in the Martin Scorsese MasterClass.
Memorable quotes from this MasterClass
"If you're intrigued by moviemaking as a career, this isn't the class for you. But if you need to make movies. A movie. If you feel like you can't rest until you've told this particular story that you're burning to tell, then I could be speaking to you. Because that's who I was when I started making pictures."

– Introduction
"We always have to stay alive to what's happening in front of you. And you can have, some call it a negative way, preconceived ideas. But as long as the philosophy of the idea is still retained, you can change the aspects of it."

– Discovering Your Process
"I don't think there's anything more inherently cinematic about one way of life vs. another. If you're inclined toward cinema, then you see what is cinematic within that way of life."

– Finding the Story
"For me, the editing room itself is something that is as sacred as the set. Here is where the film really comes alive."

– Editing: Part 1
Martin Scorsese Masterclass pros and cons
Before dedicating nearly five hours to this class, check out our pros and cons list to decide if you want to learn filmmaking from Martin Scorsese.
Pros
Scorsese is a great filmmaker, so he has a lot of practical and meaningful advice to give.
Tells you where he's teaching the class from and why that's significant for him
Detailed instructions from an all-time great
Closed captions in Spanish and German
Uses movie clips to illustrate his points
Covers the promotional side of feature films
Dissects scenes from films other directors
Active community
Cons
The Scorsese MasterClass isn't a picture-perfect masterpiece like many of his movies.
He comes off as snobby sometimes, passing judgment on what is and is not cinema
Doesn't do scene examination of his own films
Do I recommend this MasterClass?
You might be surprised, given how I feel about cinema elitism, but yes, I wholeheartedly recommend this MasterClass for aspiring filmmakers.
Do I think Martin Scorsese is an elitist gatekeeper who would take away things that we enjoy if it were in his power? Yes.
Do I think the man is one of the greatest filmmakers of all time, a genius in his industry, and an absolute pioneer 100% worth learning from? Also yes.
If you want to be a filmmaker, take this class. It's an opportunity to learn from one of the best ever, and the course has some stellar bonus content. If you want to be a filmmaker (for ANY reason), do yourself a favor and take this MasterClass.
Take the Martin Scorsese MasterClass and learn how to tell your story as a filmmaker.