Are you wondering why your copy isn't making any conversions?
You're not alone. Many businesses struggle with inefficient copy due to some terrible writing advice they received.
Yes, grammar is important. But writing style can easily be fixed with something like Grammarly.
What we're talking about here goes way beyond those basics.
This article will give you a complete walkthrough of the terrible writing advice to avoid if you want your copy to help with business growth.
Disclosure: These reviews are reader-supported. We might earn a small commission if you purchase something through our site. Learn more
Grammarly Premium Walkthrough Video
Grammarly
Best All-Around
$11.66
/mo – before discount
PROS
86% out of 86% accuracy
16+ billion database
150k+ word limit
5 devlice limit
Includes plagiarism
1-hour response
CONS
Only supports English
Expensive without our link
What Is Copywriting?
Copywriting is writing with the purpose of promoting or selling a product or service. The strings of text that you see on website landing pages, billboards, emails, commercials, and other types of advertising are all copy.
Copywriting is relevant because it can prompt a reader to act – buy a product, sign up for a newsletter, or engage with a brand in some other way. In this sense, the difference between bad writing and good writing is how well they serve the final purpose, to sell something.
Why Does Copywriting Matter?
The main goal of business or marketing copy is to sell, so it can directly impact your revenue. The better the copy, the more conversions you may get.
The trick is, just as good copy can help your business, poorly written copy can ruin it.
In a survey, 81% of business people say poor writing is a waste of time and affects productivity, since a lot of their time is spent reading poorly written emails and reports.
And if you want to talk about money, bad copywriting costs businesses all over America almost $400 billion a year.
Both facts are clear evidence of how important good copy is for your business' success.
Copywriting professional Dimitar Karamarinov comments: "Great copywriting can make or break your sale, just as car dealers talk their way to success or failure. The fluency of wording and ease of thought is the one sure way to reach the mind, heart, and spirit of any audience, as that's what sweat talk is all about."
Examples of Bad Copywriting
If you stumble upon bad copywriting examples, someone likely gave the writer terrible writing advice. They applied it without checking much questioning. As an author or freelance writer, these are some pieces of bad advice that you might get from some bad writers.
1. The No. 1 bad advice would be: Take only a small portion of your audience into consideration. Blue Cross Blue Shield had a great idea when it decided to promote a healthy lifestyle by encouraging its employees to take the stairs.
However, the people in charge didn't think it through. They ended up offending people who are not able to go up or down stairs. How did this campaign make them feel? Unappreciated, to say the least.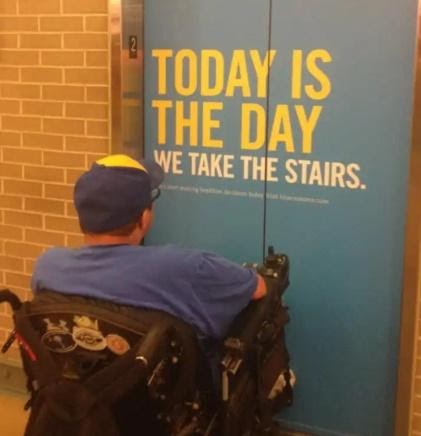 2. Another terrible writing advice is: Go too far with a joke. A funeral home in Berlin advertised the company on a huge billboard across the platform in an underground train station, just above the tracks.
It would have been a great ad placement if the copy on the billboard wasn't saying: "Come a little closer." It's just distasteful and offensive for all those who experienced losing a loved one, especially to suicide. Not all copy that grabs your attention is good – some jokes are simply disrespectful. Remember that it's all about how the reader interprets what is being written too.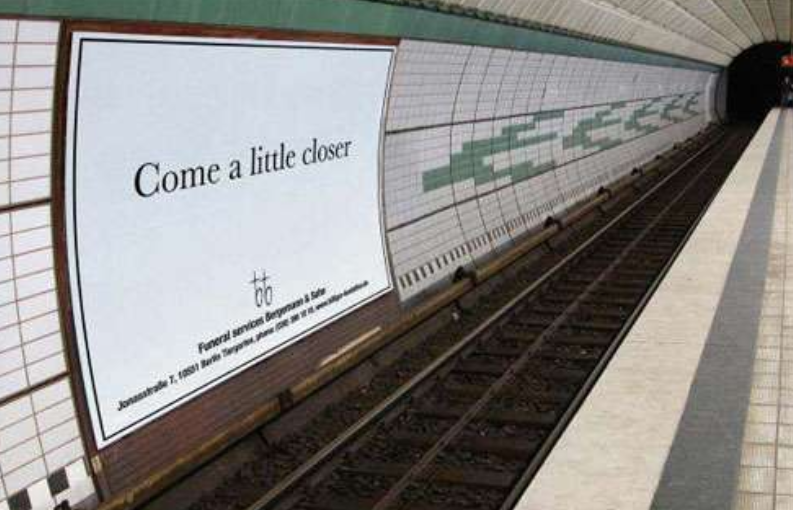 3. The third copywriting sin we want to mention is failing to be precise. Being clear is critical when it comes to your CTA button and encouraging your prospects to act. This Discovery ad didn't make many conversions. Why? Click here to buy tickets wasn't enough to make up for the rest of the copy.
When writing copy for inviting people to go to an event, "less is more" is undoubtedly terrible writing advice. In this particular case, the copy is missing crucial words like "visit" or "don't miss" before the exhibition name. Potential visitors might have been prompted to take action. Using useless clichés will get you nowhere real fast.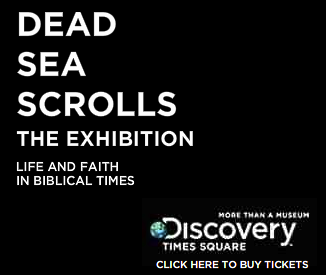 Copywriting Examples That Actually Convert
Let's take a look now at a few examples of good copywriting. That's the kind that actually increases conversion rates and contributes to your company's profitability.
1. Use humor and have fun with your copy. If you know your audience well, you will know exactly what makes them laugh. Joking with your prospective customers can make the brand more relatable, and the customers more likely to convert.
Moosejaw is one of the brands that weren't afraid to play with their copy. It's not just the product descriptions but the humorous tone is used all over the website. This cute hedgehog ad is only one example.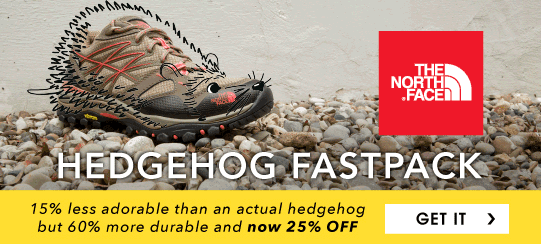 2. Use simple language. The presence of big words can affect your conversion rate negatively in two ways. Your prospects may feel inferior because they don't understand a word used in your copy. You don't want that. Or your potential client to have to look up half of your copy in a dictionary, either.
A conversational tone goes a long way, which you can see on Basecamp's landing page. Not only does the company use simple language, but it also tells you right away what problems it can solve and what you'll get.
Using simple and colloquial language such as "Bullshit", although maybe not ideal for academic writing, can really help grab a reader's attention.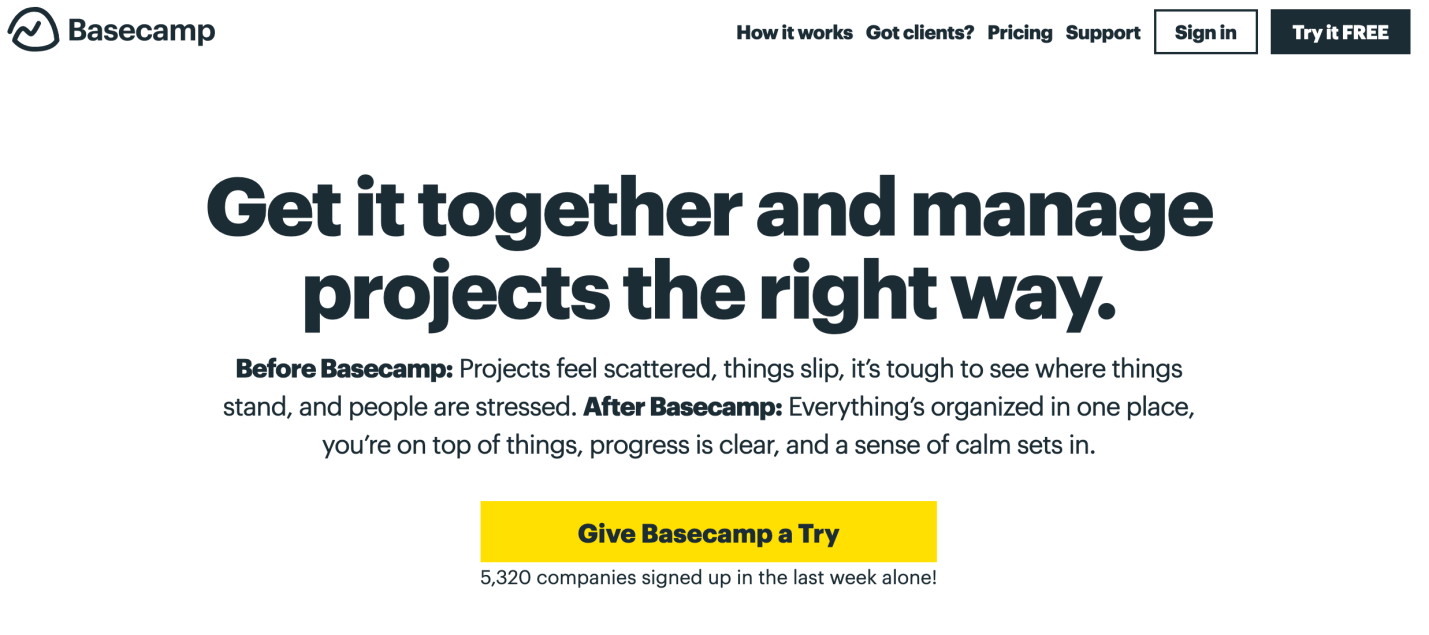 3. Create enticing copy without getting entangled in complicated sentences and flowery or obscure words. Moz Academy knew just how to do this. It's a simple statement, "There's a smarter way to do SEO" doesn't have to use mysterious big words to make you curious.
At the same time, you know what to expect if you're to try the company's tools, just not enough that you can skip clicking the CTA button.

Copywriting FAQ
What causes poor writing skills?
Terrible writing advice could definitely be one. Make sure you follow only proven tips. Also, not enough practice can cause your writing skills to decline over time. Remember – your talent isn't enough, especially in copywriting. Only practice makes perfect. Something else that leads to bad writing is a lack of a writing process. This is not something you can just wake up and do one day. As an aspiring writer looking to further your writing career, following bad advice can spell doom for you.
How do I start learning copywriting?
All good writers need to be readers first. By reading a lot, you broaden your vocabulary and unconsciously adopt specific structures to help you write better. Listen to podcasts and read successful copywriters' blogs to learn more. Analyze different brands' landing pages and think about what you could improve.
How can I improve my business writing?
Luckily, you can improve your writing skills. To begin with, you might want to write every day. Make sure you only follow expert advice on writing. Make sure your sentences are clear and concise. Spend enough time on editing. Delete all the unnecessary fluff. Avoid long paragraphs and make your writing readable. Don't use too much passive voice.
What skills do you need to be a copywriter?
First of all, you need to have a good command of the language you're writing in. You should be resourceful in research. Good copywriters read a lot, so they have a broad vocabulary, or at least they have a favorite thesaurus app. Knowing the fundamentals of SEO can also help you write better copy.
Final Thoughts
This article aims to help you understand the importance of copywriting and how it can affect your business. If you don't recognize terrible writing advice in time, it may cause your landing page conversion rate to drop.
But worry not.
We've also presented some of the basic copywriting rules that can improve your copy and help increase your business' conversion rates. If your text isn't converting, it means there's room for some fine-tuning. It's never too late to work on your writing skills or turn to a professional for help.
Yes, bad copywriting can hurt your business a lot. But good copywriting can make it rise even more, and good writing advice can make the difference between you becoming one of the famous authors of the world and suffering from writer's block and fading into obscurity.