Are you wondering what kind of structure your article should have?
You're not the only one. Many writers struggle with organizing their writing from time to time.
This article will give you a complete guide to what a writing template is and how to use it to improve the structure of your written content.
Disclosure: These reviews are reader-supported. We might earn a small commission if you purchase something through our site. Learn more
Grammarly Premium Walkthrough Video
Grammarly
Best All-Around
$11.66
/mo – before discount
PROS
86% out of 86% accuracy
16+ billion database
150k+ word limit
5 devlice limit
Includes plagiarism
1-hour response
CONS
Only supports English
Expensive without our link
What is a Writing Template?
A writing template is a guide that a writer follows while writing a memo, an article, a book, a letter, essay etc. A template aims to help the writer follow a specific structure and write faster.
Writing templates are important because they can save you lots of time if you're a beginner. And even if you're not, a writing template can make your job easier by providing a clear pattern for your article so you can focus on the content.
The writers in our very own content marketing agency follow these writing templates on a daily basis.
Or if you generally struggle with writing, hire professional writers on EssayHub the next time you need to write an article or even an essay. Even they use writing templates quite often.
Writing templates can also be used with popular writing apps like Scrivener to help keep you on track.

Why Does Following a Writing Template Matter?
Many writers use proven writing templates in copywriting because they help increase their conversion rates.

Some writers even turn to MasterClass to learn writing from the best of the best.
For example, a study found a template that works best for landing pages: a CTA like Sign Up or Subscribe because we'll do X or Z for any prospective client. The number of agreements increased from 60% to 94% after adding the reason to the template.
What a Writing Template Looks Like in Practice
Whether you want to write a book, copy for a website, or an essay for school, you can find excellent examples online. Here are three of them.
A landing page writing template
Many successful businesses owe a part of their conversions to a well-written landing page. What they have in common is the following landing page pattern:
Tell the audience what problem you can solve for them
A CTA button
Explain your services with more details
Describe how you solve the problem
Corroborate your statements with client testimonials
Another CTA button
KlientBoost has a good illustration of this writing template on their website. Take a look: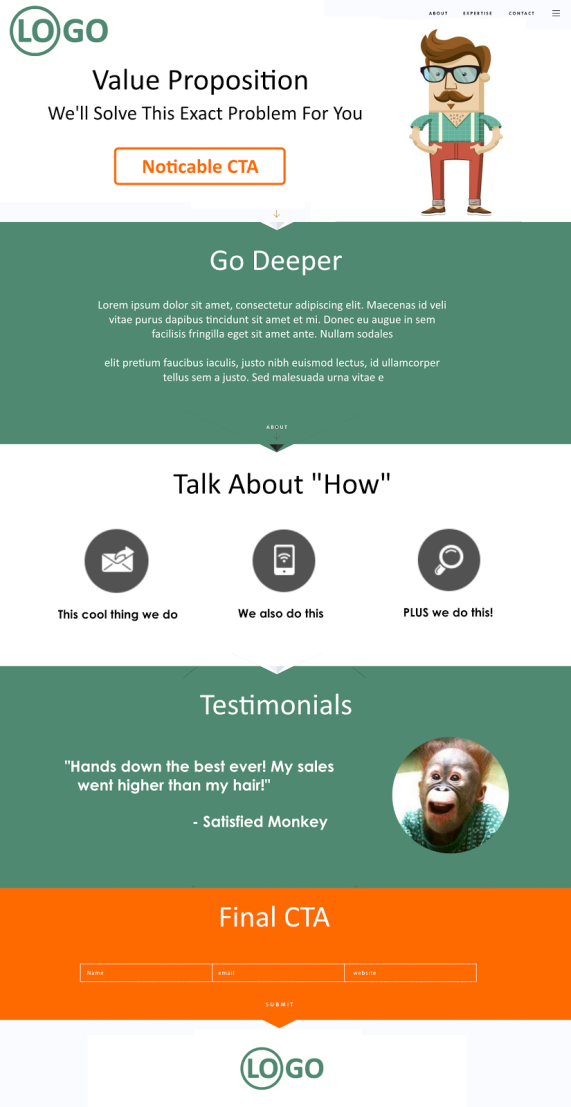 A blog post writing template
A blog post can give you plenty of freedom when writing. However, quality blog posts also need to have a structure to be more readable and flow better. Here's a great example that you can follow if you want to write a fantastic blog post:
Start with an attractive headline that will make your readers click.
Use the introduction to identify a problem, make the reader relate, provide some issue-related statistics.
Provide a step-by-step guide that will lead your reader to the solution.
Summarize the main points of the blog and invite your readers to leave comments.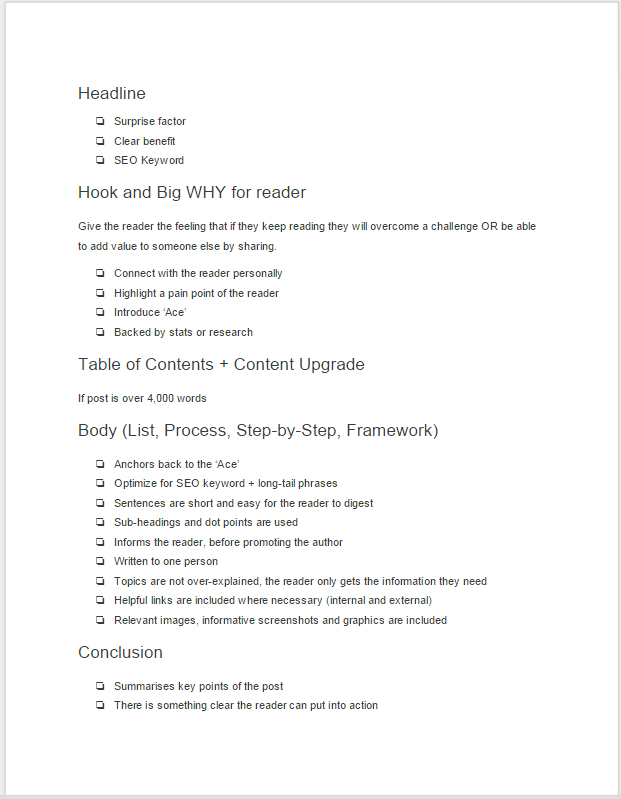 Sales email writing template
Email marketing is a vital element of any marketing strategy and therefore requires some excellent, persuasive writing. If you follow a proven template, you can expect a prospect to reply to your cold email. One example of a good email template is providing value for your potential client upfront.
After addressing the prospect, tell them what product of theirs you saw and liked
Compliment them, but be specific and name a few details that you really liked
Point to a minor improvement that could be made
Invite them to work together on it
Here's what it looks like: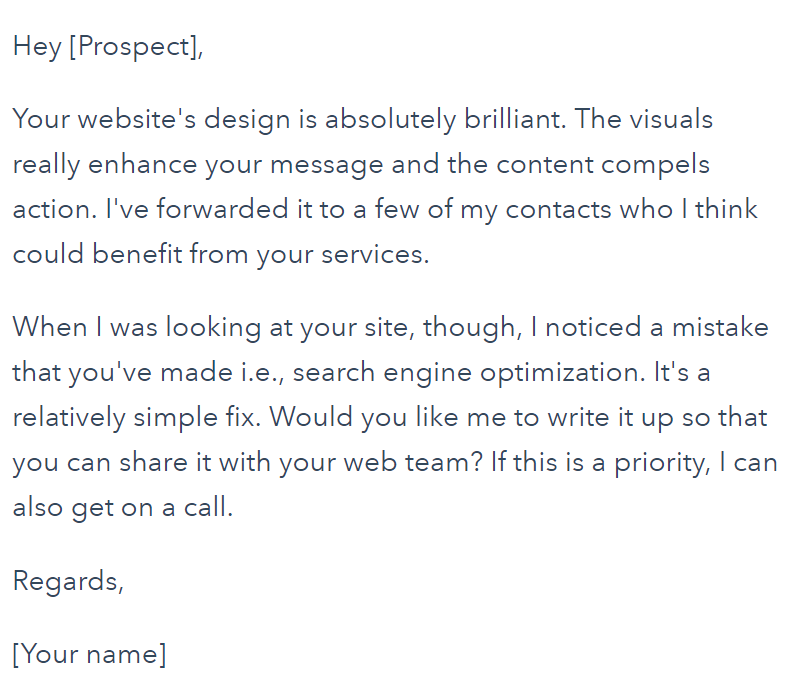 Writing Template Use Cases
Talking theory doesn't help until you see good advice put into practice. Here are three use cases of writing templates.
Basecamp's landing page
It's a good illustration of many proven copywriting practices. On Basecamp's landing page, you can find all the elements included in the writing template we previously mentioned.
There's a one sentence explanation of what their tool is for. They used it as a heading. It's followed by problem identification, a CTA button with social proof below.
The next section is dedicated to more details about the business, client testimonials, and the final CTA button at the bottom.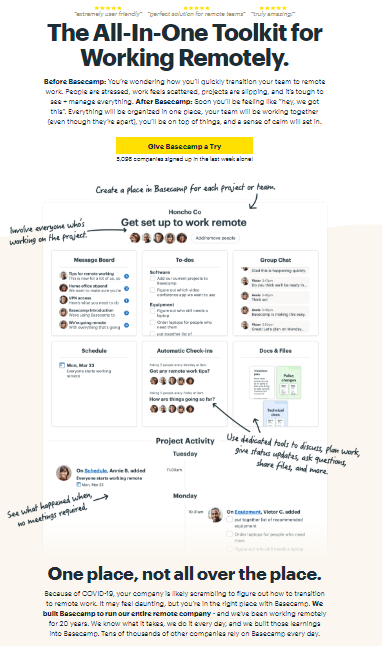 A blog post about starting a blog with WordPress
This comprehensive blog follows the template we mentioned in the previous section, although it's missing the table of contents. After the introduction, there's a section with a step-by-step guide through blog creation from scratch to proofing grammar and plagiarism with Grammarly, posting content and optimizing it.
The blog post may not have the table of contents, but there's a FAQ list at the end, just before the conclusion, which is also a good way to round up your blog content.
HubSpot's sales email template
You know it's an excellent template to follow if you get a response from the prospect you've emailed. The following template uses compliments to start a conversation.
This particular template has these elements:
Addressing the product or service the sender wants to talk about
Complimenting on particular aspects of the email topic
Explaining how it helped someone else
Offering to continue the communication and encouraging the prospect to keep up with the excellent work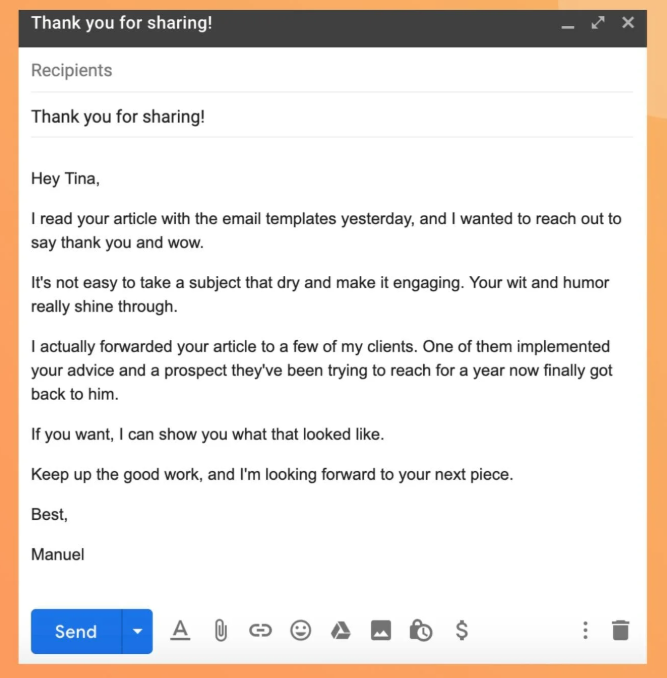 How to Use a Writing Template: A Step-by-Step Walkthrough
This section will give you a simple step-by-step walkthrough to how you can use a writing template for your articles, emails, etc.
Open a Word document or Google docs to create a new article. These two programs make it easy to edit and share documents, and they're publishable as soon as you finish typing.
Find a writing template that suits the type of your text. You can find a bunch of templates online and use our article to determine which one is good.
Copy the template directly to your document. It will be easier to have it all in one place.
Make any necessary adjustments to the template so you can plan your content around it.
Start writing. As you move through your article, you'll replace the template text with your own.
Make sure you save a separate document with the template you used so you can come back to it when necessary.
Writing Template FAQs
How do you access templates in Word?
Open a Word document and select the File tab at the top. Click on New and navigate to Available Templates. If you want to use an existing writing template, click on Sample Templates and choose one that suits your needs. You can also make your own template by clicking on Create.
Are Letter Templates Important?
While letters are usually more personalized, professional letters do need to abide by some writing styles and practices. A good letter writing template that you can find online, or in Microsoft Word, will usually provide everything you need to include and doesn't need much adapting to create a great end result.
Is There a Template for Writing a Book?
Yes, there is. Many writers use templates to create stories and novels. You can even download a free book template and open the file in Microsoft Word to write your own book. Some book templates you'll find online are free, while some need to be paid for. The template makes it easy to prepare your book for editing and publishing.
For aspiring novelists, knowing how to outline a book can be more vital than writing its contents. Writing skills are important, sure, but an outline can help you to be a successful writer and get your book out faster. There are a few different ways you can create a book writing template, based on your approach as a writer:
If you're a character writer, your template should revolve around what the characters do, achieve, or how they develop
Constructing the spine of the novel is usually a good idea. Knowing when and where key plot points happen can allow you to decide how to best achieve them rather than wondering what happens next
A well-documented list of scenes or chapters, each with a summary of the plot as it unfolds, can be a great way to jumpstart a book
A mind map of all characters, places, objects of note and key plot points can be a good visual guide of what is happening in the book.
A book template can vary between a basic template (such as scene-by-scene summaries) to elaborate documents that novices can easily get lost in. Consider using a free template to start with and then move to an expert template once you've gotten the hang of it (or published a book or two already).
Is There an Essay Template?
As with most academic writing, essays need to follow a general outline from start to finish. While essays lack the content creation of a book that would necessitate a long template, it's still a good idea to overview how an assignment will look like and what you need to add to it.
By the time you've finished the final draft, you may have deviated from the template, but you will have already reaped its benefits.
How Else Can a Writing Template Help Improve Your Writing?
There are many ways in which a good writing template can help improve your writing.
They can help you create coherent blog posts.
They can help make your creative writing more captivating.
They can help make letters more concise.
They can help students organize their thoughts.
They can help make a script more appealing to an audience.
They will organize content in a manner that is easy to grasp.
They can help create a whole book outline from start to finish.
They can help create an entertaining story with all of the important writing elements.
They help to provide story structure.
They will make it easier to develop deep and meaningful characters.
They can help to incorporate your thesis statement into a full piece of writing.
They will help get your main point across.
They can improve a business proposal, making it more coherent and easier for potential investors to understand
They can even help create coherent and concise lesson plans.
As you can see, writing templates can come in handy for all types of writers and writing. If you expect readers to really appreciate your writing, creating a template and following it is crucial.
What Information Should Be Included in the Template?
A template shouldn't be too detailed. It should give you basic instructions that will guide you through the writing process. You can also add a few examples in case you don't feel inspired when you start writing, just to get yourself going. Also, sometimes it's necessary to add the word count for each section named in the template.
What is a Sample Template?
In word processing, a template is a sample document, so these terms are basically synonyms. This document already has some information typed in, and sometimes it can be changed. In other cases, you can only fill in the blank and complete it without changing the existing details.
Learn How to Write Faster
Writing templates can be very useful both for beginners and professional writers. You can follow a writing template until you get used to writing a specific form. For example, you can use blog post templates, sales email templates, and even a book template if that's your ambition.
You can even speed up your writing process by using an app like Wordable, which automatically formats content from popular writing apps like Google Docs. This can save you up to an hour's worth of work for every blog post and page update you create. You can learn how to write and publish faster with a free trial of Wordable today.
Hopefully, this article provides you with a better understanding of what a writing template is and how you can use it. We've made sure to show you some good examples, especially if you're writing for the web. Following a proven template can help you write faster and better. Different programs, such as Microsoft Word, enable you to save them for future use.
Using Writer to Get Templates
You can turn to professional writing assistants to help you out if you're in need of a template. Writer allows you to make templates for all your work and share it with coworkers, so all team members know how best to achieve their goal.
A good expert template is vital to provide cohesiveness in content marketing and content creation, as it makes everything more comfortable to read and overview. Writer also includes much-needed features, such as a writing center full of grammar-checking features.
With Writer, you can make a title page template that will ensure your websites' front pages look great uniformly across your platforms or have paragraphs split evenly around the webpages with a visual guide to have everything under control.