Sales suffering without first-class SEO content writing?
Consider this SEO content writing conundrum:
Organic traffic has increased over 50% across all industries, yet 90% of pages don't get any organic traffic.
How does that work?
It's is because the #1 Google search result gets around half of all organic search traffic – so the increase is only going to a few select businesses.
For you, this means you need to be at the top of Google search results to see real business growth.
What's the solution?
Killer SEO content writing.
Don't believe us? Read on to learn why top-notch SEO content writing is an imperative and how Codeless has got you covered.
What is SEO content writing?
No doubt you're familiar with regular content writing. So what's the difference?
SEO stands for search engine optimization. It refers to the practice of enhancing your web pages so search engines can match your content to relevant searches more easily.
SEO writing is at the center of your SEO strategy. This is why 64% of marketers actively invest in SEO and more than 55% of marketers see SEO as very or extremely important to the overall marketing strategy:
The idea behind SEO content writing is to optimize your content so it ranks more highly in search engines, thus increasing your brand's visibility online.
Search engines use a wealth of factors to rank websites. Google, for example, ranks websites on 200 criteria to match the content to relevant search queries.
These criteria include factors such as keyword density, number of backlinks, content length, content recency, and so on.
By optimizing these elements, content is more easily discoverable on search engines.
This level of SEO optimization leads to higher profitability as you're pushed up rankings and more customers see your website.
Perhaps most importantly, Google's algorithms are very clever. For your SEO content writing to be successful, it must appeal to people first, as useful, appealing content that solves the problems they search for.
This means crafting content that speaks to people first, supported with SEO elements to increase discoverability.
For example, imagine you're starting your own law firm, but you have no idea about how your website should look, so you decide to research 'law firm website design' online.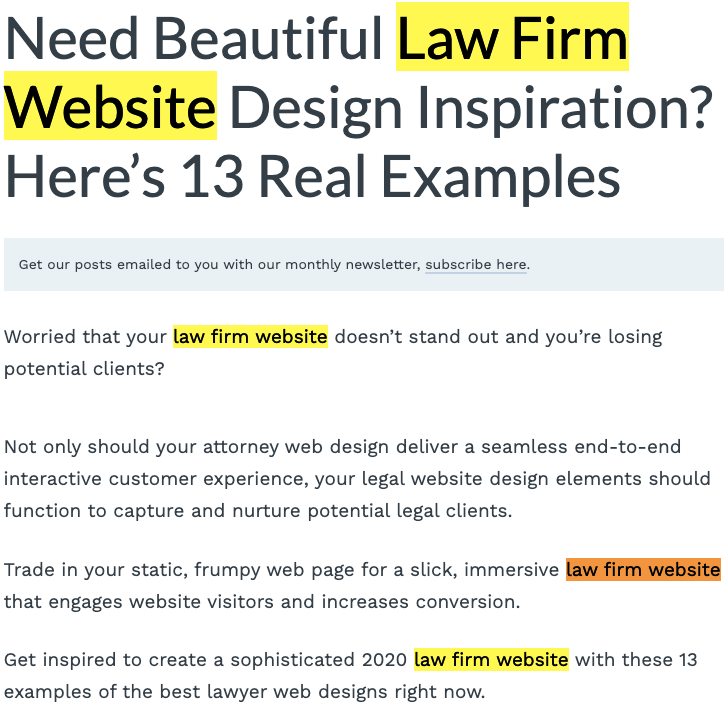 This article is aimed at law firms researching web design. It's highly informative, helping to solve the issue of how a law website should look.
See how the keyword 'law firm website' is used in the Title Tag and in the H2 header? Keyword density is high throughout, especially in the introduction. This increases the article's ranking on Google.
Notice the similar search terms in the content writing, such as 'attorney website', 'law firm websites' and 'design elements'.
Every related keyword makes it easier to reach the target audience through relevant searches.
Pros and cons of in-house vs third-party SEO content production
Depending on your situation, outsourcing SEO content writing could be the right choice for you.
Check out these pros and cons of outsourcing SEO writing.
Pros of outsourcing SEO content production
Employing a leading SEO content agency will…
1. Save your team time
As professional content writers are familiar with SEO tactics and AI-driven content softwares, the content creation process is faster. Equally, since quality content agencies know what works, you'll save time on testing.
2. Save your business money
When you hire a top-rated content agency, like Codeless, our past successes will show you the kind of results to expect. You know the bang you're getting for your buck.
You can assign someone from inside your team or hire a freelancer, but it's hard to guarantee a good ROI. In fact, a lot of early experimentation will lose you money.
3. Offer dynamic, proven solutions
Having worked across a rainbow of industries, the Codeless team are experienced in offering personalized SEO content solutions, tailored to your needs. Drawing on past experiences, we can pinpoint immediate opportunities to springboard your content into the public eye.
We'll steer you in new, innovative ways, so you're working with Google's flow, rather than against it.
Cons of outsourcing SEO content production
Be aware of these drawbacks when outsourcing content writing:
1. It's costly upfront
Pick your agency wisely as you'll usually have to shell out upfront without seeing results. Check past case studies and testimonials first.
2. Your business isn't the sole focus
An agency will have lots of clients so your project will only be allotted a certain number of hours. Make sure you make the most of strategic meetings with your agency.
What to look for in an SEO content writing team
#1. A robust SEO writing workflow
Shoddy SEO content agencies fail because of the bottlenecks in their content production workflow.
At Codeless, our proven writing process is zipped up. That's how we can produce 250+ high-performing content pieces each month.
We use a simple three-step content production process:
Strategize and research – this involves conducting a SERP, mapping the best elements, and designing content to rank over the competition
Content creation – our professional content writers brief, outline, draft, and refine your content
Optimization and finalization – we optimize and test for SEO before uploading your optimized content to your CMS.
Not only do we know this process works, we also deliver on time, every time.
Knowing that 16% of companies rate 'respect for deadlines' as the most important soft skill for outsourced content creators, we developed our process for bulletproof punctuality and accountability.
Take, for example, investment website Robinhood. At the height of the project, we were doing over 100 pieces of content for them every month, and their site now ranks #1 for (among many others) the search term "how to buy bonds," and has reached 82,600+ ranking SEO keywords in less than a year.
#2. A highly-skilled writing team
If you're unsure what a highly skilled writing team looks like, consider Codeless as an example.
Our team comprises specialized professional writers, located all over the world. Our highly-trained writers, editors, graphic designers, and account managers are acutely accustomed to our rigorous writing process. Thanks to this, we deliver top-performing SEO content writing every time.
When outsourcing, 38% of companies look for content creators with top SEO skills while 37% look for strong research abilities, and 25% hire for editing capabilities. Like 53% of companies, you'll likely need an SEO writer, or like 34% of firms, you may need a graphic designer.
The Codeless content team has you covered on all of these counts.
#3. Wide-ranging experience
Not only will a leading SEO content writing agency have provable experience in your industry, they'll draw techniques and innovations from other sectors they've worked on.
Additionally, a top SEO content production team will have worked to achieve a plethora of written content goals to pursue specific results.
If you consider Codeless, for example, we've had a wide range of experience meeting various content objectives for clients.
Having worked with the whole gamut of brands from SaaS to ecommerce, technical, fintech and more, Codeless has worked on developing SEO content that…
Builds brand authority
Increases conversion
Revitalizes and updates past content
Optimizes technical written content
Fosters brand trust
Amplifies visibility and traffic (and more)
#4. Happy customers
If you want to know how good an SEO content writing agency is, just look at how happy their clients are.
When we consider our Codeless clients, it's quite clear that our customers are more than satisfied with the results from our content writing services.
Just look at Kinsta. Thanks to our highly-qualified content team, the Wordpress hosting platform now ranks #1 for its top focus keyword: 'how much is your website worth?'.
Alternatively, take a look at CrazyEgg. Our supercharged SEO content means that CrazyEgg now experiences over 6700 monthly visits.
#5. Personalized SEO content writing services
Not all content strategies are the right fit for your company. Leading SEO agencies know that your business needs tailored SEO content writing services, personalized to your content goals.
At Codeless, this takes the shape of thorough consultancy and strategy meetings, along with in-depth technical analysis to audit your SEO.
By working closely with you, we establish how we can customize SEO content writing campaigns that adapt to meet your objectives in an ever shifting digital environment.
63% of marketers admit that interpreting marketing analytics is tough. However, with an experienced team like Codeless, we can craft data-driven content campaigns with provable, easily measurable results that meet your aims.
Look at Freshworks, for example. The support software needed high-converting content at scale. Producing 25 articles and 4+ infographics per month, Codeless' SEO content has led to a 61% year-on-year billing growth:
#6. Free consultancy and SEO tools
Leading content agencies know the value they can bring your firm. To help you see the value of outsourcing SEO content writing, your content agency should offer services to help you understand your current situation and your needs.
For example, at Codeless, we offer a free Instant Quote Calculator to outsource SEO, and Free Content Quality Analysis of your existing content. By providing these tools, we help you strategize how best to allocate resources to improve your rankings.
If you need help understanding how to best optimize your SEO content service quickly, book a call with one of our specialists to discuss your aims.
What is an SEO content writer?
An SEO writer optimizes written text and non-text website elements to provide a map for Google to link the content with key search terms. SEO content writers will attain high keyword density, include keyphrases in meta description, add strategic backlinks, and so on, to achieve higher rankings.
What is SEO content strategy?
Your SEO content strategy is the entire plan for improving search engine rankings. On the macro level, your strategy will consider the key topic areas and clustered subjects that are relevant to your target audience. On the micro level, this would include backlinking, keywording, and other on-page tactics.
How much does it cost to outsource SEO content writing?
SEO content writing services vary. While you can pick up a cheap freelancer for $10 an hour on Upwork, you'll usually end up in a sorry state. Leading SEO content agencies with proven track records, like Codeless, start fee plans at around $3K a month for a start-up. Price bands increase for larger organizations, with enterprise services priced on per company basis.
What does SEO content production include?
What does SEO content production include?
While we can't speak for other content agencies, Codeless is renowned for its comprehensive menu of content services. We provide SEO content services that cover:
Content strategy 

Content creation

Content optimization

Graphic design and on-page media design

Content editorial services

SEO optimization

Account management, and more.
What types of projects would an SEO copywriter not work on?
SEO content writers only work on content for websites. You won't often find an SEO content writer working on email campaigns, social media posts, internal newsletters, whitepapers, leaflets, or any printed materials.
Conclusion
Now you have a clearer idea of how imperative strong SEO content writing is, it's high-time you started to develop a foolproof SEO content strategy.
Remember, that while it may seem a bit cheaper to do it yourself, you'll lose out without top professionals to guide your SEO decisions.

Don't waste your time overloading your plate with content worries. Speak to the experts at Codeless about how we can build a resilient SEO content writing pipeline that meets your company's online needs.