Grammarly is a powerful online grammar checker that goes far beyond the spell-checking capabilities of your browser or even your word program. Many students, academics, professionals, and other writers enjoy the ability to use Grammarly in their Web browser to check their writing in real-time as they type in various forms on different websites, including Google Docs. Grammarly will help you correct punctuation, remove double words, improve sentence structure, and fix style issues such as passive voice, which can weaken your writing. You can learn about all of these issues in the Grammarly handbook.
Disclosure: These reviews are reader-supported. We might earn a small commission if you purchase something through our site. Learn more
Our Verdict
Grammarly adds best-in-class support for grammar, spelling, and plagiarism checking to Internet Explorer.
Grammarly
Best All-Around
$11.66
/mo – before discount
PROS
86% out of 86% accuracy
16+ billion database
150k+ word limit
5 devlice limit
Includes plagiarism
1-hour response
CONS
Only supports English
Expensive without our link
Grammarly Premium Walkthrough Video
TABLE OF CONTENTS
Can You Use Grammarly for Internet Explorer?
Because there is no Grammarly browser extension for Internet Explorer, you will not have Grammarly's native grammar checking as you type in text areas on various websites. While this might be slightly inconvenient, there are several methods you can use if you enjoy using Grammarly.
First, you can go to the Grammarly site where you can upload, write, or copy your text as a new document in the Grammarly editor. No additional software is necessary, and you can access it from any computer as long as you can log in with your Grammarly account, which you can register for free.
Once you add your document, Grammarly will check for spelling and grammar errors, just like the plugin would. It will also save documents, and you can come back to them in the future to make changes or download them as Word files onto your computer. There's even a search bar that allows you to find any document with ease.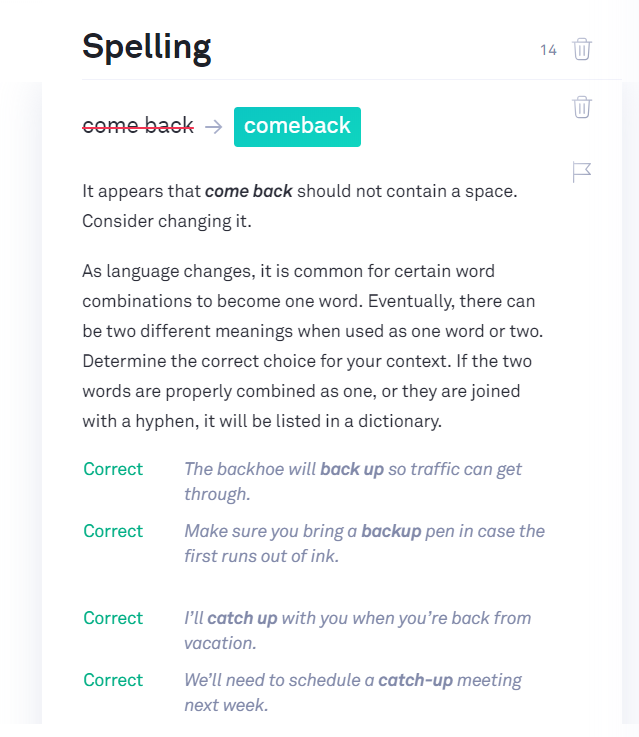 Alternatively, you can install Grammarly for Windows. The app will proofread any content that you copy and paste into it. The desktop app also has a convenient drag-and-drop feature that enables you to drag any word file that is already saved to your computer to the interface to begin spell checking.
If you frequently use Microsoft Word or other Microsoft Office products (Grammarly is compatible with the email app Outlook), it may be useful to install Grammarly for Microsoft Office. This plugin adds the same functionality to the world's most popular word processing program.
It may be worth considering switching to a different default browser if you would like a browser extension to check your writing across a variety of sites. Once you install Grammarly, you can save the time and effort you would spend either saving documents to check in the Windows program or copying and pasting content back and forth from the app or website.
There are Grammarly plugins for both Firefox and Chrome that will check for grammar errors in almost any passage as long as you type it into a text area. Grammarly doesn't typically check short text boxes such as those used for titles. In addition to this, once you add Grammarly to your browser, you'll see a Grammarly button in the top toolbar, which will allow you to disable or enable Grammarly for specific websites, upload new documents, or change settings.
Chrome and Firefox are both compatible with a variety of plugins on top of Grammarly and may offer more security when surfing the Web.
Grammar Check With Grammarly
Regardless of which option you choose, you'll have access to several Grammarly features. All accounts have access to basic spell checking, and if you decide to sign up for a Grammarly Premium account, you'll be alerted about even more detailed grammar issues.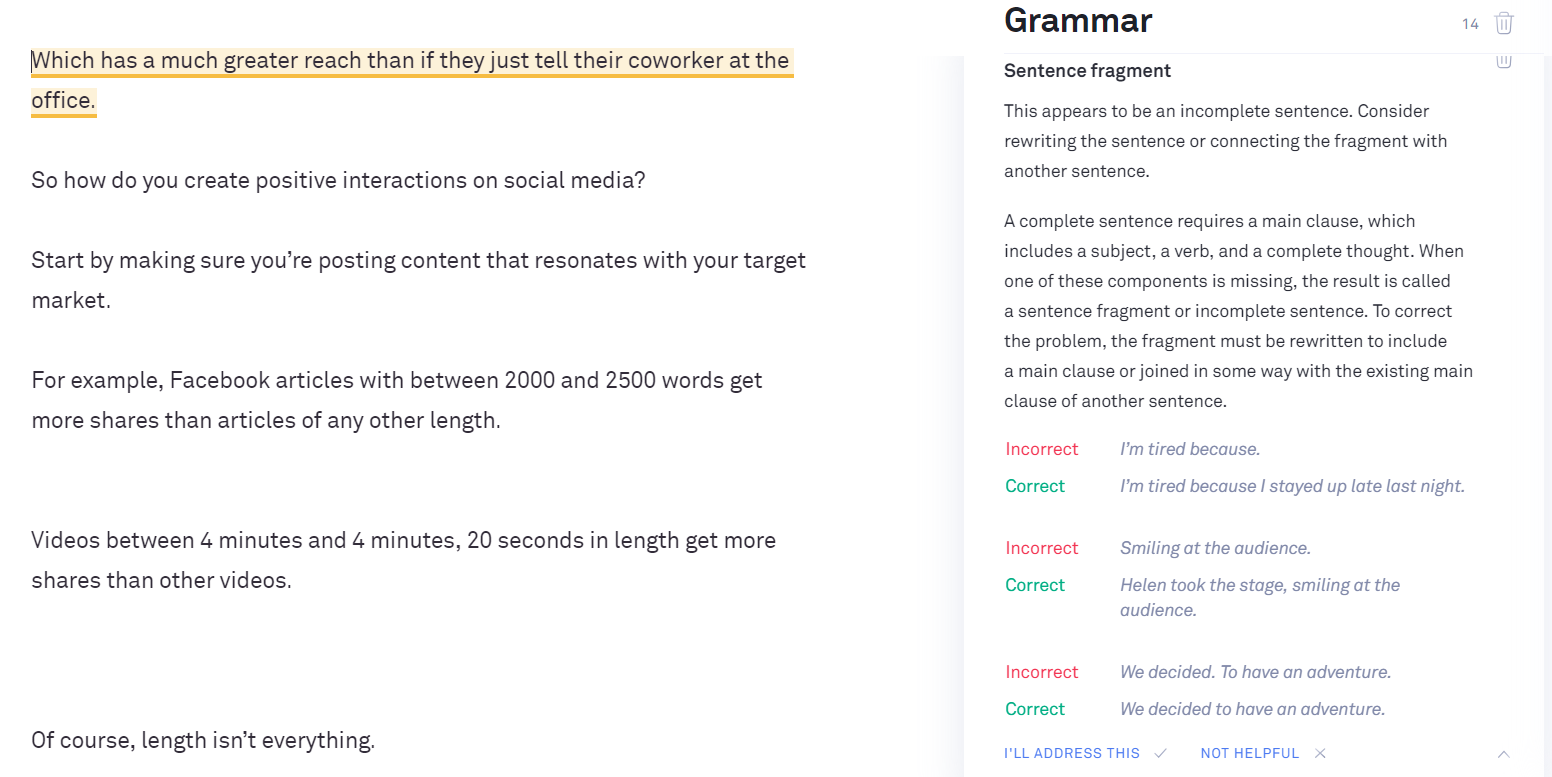 You'll be alerted to these possible grammatical errors with a numbered circle in textboxes in your browser, the color of which rates the overall health of your passage. After you click that, you'll see a popup your content next to a list of suggestions on the right. This is the same screen that appears when using the Grammarly app for Windows or pasting directing into the Grammarly site. You can go through the suggestions to accept or ignore each of them as you see fit. These advanced recommendations can help elevate any piece of writing from "fine" to "polished."
Furthermore, Grammarly will check for the tone of your document, a feature that comes in useful, whether you wish to appear knowledgeable and professional or informal and conversational. Tone-checking keeps you on track and is beneficial if your projects require you to frequently change the tone of your writing.
Using Grammarly Plagiarism Checker
On top of that alerting you of spelling mistakes, Grammarly also has a plagiarism checker that will compare your words to those published on the Web and alert you if any passages are too similar. Not only can writers benefit from this function by keeping their content unique, but teachers, editors, and supervisors can also check that the submissions they receive are actually original. To access this function, click the button on the bottom right of the editor screen.
Grammarly for Professionals
Grammarly can be useful for businesses or students with international dealings, too. The spell checker has settings for America, British, Australian, and even Canadian English.
For those people who frequently write, either for work or school, Grammarly teams offer a way for each team member to collaborate on a project or even the same document. The tone function can be especially useful when multiple people are working on the same document, but each has a slightly different writing style. Grammarly can help keep the end result cohesive. You'll need to sign up for Grammarly Business to work with your team. The more team members who subscribe, the more money you'll save. You can sign up for a free 7-day trial to see if it's right for you.
All of these options make it easy to find the right version for your needs. However, it also means that Grammarly cost varies. Grammarly Premium accounts cost slightly more than $10 per month, but you can save up to 50% if you purchase an annual subscription instead of one of the monthly Grammarly offers.
It's not hard to find a positive review of Grammarly. Plenty of people have taken advantage of this spelling tool. Whether you choose the Grammarly browser app, Grammarly for Microsoft desktop, Grammarly website, or even use Grammarly keyboard on your phone, you're sure to eradicate even the most subtle of spelling errors and improve your skills.
Don't forget to share this post with your friends if you've found this Grammarly Premium review helpful!