Grammarly has become of the best tools around to check for any grammatical errors.
It's used by many people like students, business professionals and those who write for a living. There are many ways you can use Grammarly. It's compatible with web browsers, browser extensions, various apps including the Grammarly app, and has its software. This ensures that whenever you are making grammatical mistakes, it will always be checked and corrected. Today we show you how to use Grammarly for Open Office.
Disclosure: These reviews are reader-supported. We might earn a small commission if you purchase something through our site. Learn more
Our Verdict
Grammarly is the best writing tool around for those that want to improve the way they write. It provides you with checks across grammar, spelling, punctuation, and can even detect plagiarism.
Grammarly
Best All-Around
$11.66
/mo – before discount
PROS
86% out of 86% accuracy
16+ billion database
150k+ word limit
5 devlice limit
Includes plagiarism
1 hour support response
CONS
Only supports English
Expensive without our link
Grammarly Premium Walkthrough Video
TABLE OF CONTENTS
How to Install Grammarly on OpenOffice
Installing Grammarly for OpenOffice is a bit more complex than installing a browser extension or integrating it with Microsoft Office. The most important thing to note is that you can't actually use Grammarly and integrate with OpenOffice like you can with other apps such as Grammarly for Microsoft and Grammarly for Microsoft Office. OpenOffice does have several writing software tools that you can integrate into the app, but there is still a way you can use Grammarly.
In order to use Grammarly on OpenOffice, you will have to create a users account. Presuming you already downloaded the software program you can take the next step of creating your Grammarly account. Once you create it, you can log in and begin using it.
Whether you use the web browser version or the desktop version, you'll notice the dashboard has a plethora of options. You can change your account details, upload documents, or use the Grammarly editor.
If you are wanting to use Grammarly for OpenOffice, you will have to write your document on the Grammarly website, use the blank text writing area, or upload the document from OpenOffice to Grammarly. Once you either copy and paste your work or upload the document you can then begin correcting your spelling and grammar mistakes.
How to Correct Your Grammar Using Grammarly on OpenOffice
Once you choose the method of uploading your document or copy and pasting, you can start checking. Grammarly will naturally highlight words or phrases that need changing. There are limitations to what you can fix in the free version. However, it does the basics like being a spell checker, editing, grammar checker, sentence rephraser, and correct punctuation. If you are needing a more in-depth correction, then you'll have to upgrade to the paid version of Grammarly either Grammarly Premium or Grammarly Business. Both versions are competitive options for small businesses and even campaign managers using these types of campaign management tools looking for automation and streamlining capability.
Grammarly Premium has more features for those needing more in-depth grammar checking. You're able to see how often you use passive voice, see your mistakes in sentence structure, highlight your word choice if it's too wordy, and you can see your writing style and tone that you're using. You can even see your word count and readability score.
Our content marketing agency produces over 300+ articles/month, so we use Grammarly Premium on a daily basis. Similar to our MasterClass review, the value you get from using Grammarly is well worth the cost.
While it doesn't integrate with OpenOffice directly, it will still make changes across different devices and apps. It's compatible with programs like MS Office, Word Processor, Slick Write, you can download the keyboard for your iOS or Android device, download an extension Grammarly, and use it with Google Docs and Microsoft Word.
The mistakes you make are found by the grammar checking tool. It will highlight the mistakes in red like spelling errors or grammar mistakes, for example. These are ones that should be changed, and they contain issues that don't pertain to subjective mistakes like tone or type of voice. Mistakes that are recommended you change are highlighted in yellow.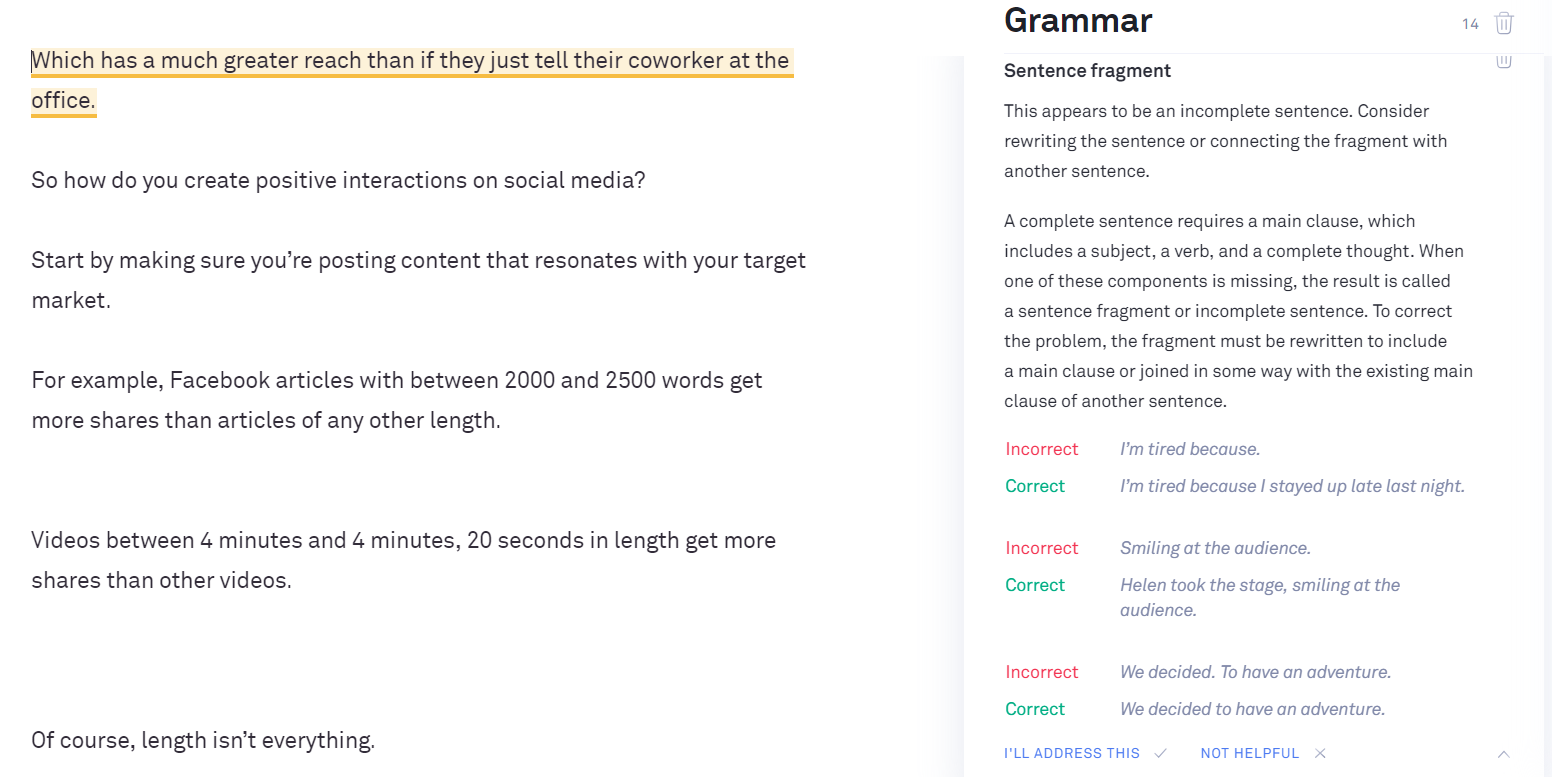 Yellow highlights are mistakes that deal with your tone or word choices. These can affect your readability scores. It's up to you though to make those changes if you think they should be changed per your audience reading it.
For example, the checker tool may say you should change things such as "like", "really", "actually" but if you're writing for an audience that you want to be more personable with or isn't on the formal side, then a change might not be necessary. If you're writing a more formal piece like an assignment or business piece, then any highlighted mistakes you'd want to correct. This is especially true if it contains filler.
How to Check Reports on OpenOffice
Grammarly offers different reports depending on the version you are using. The free version will give you a pop-up menu that will show you how your writing looks. It will include things like your correctness score, changes that you can make, delivery, clarity, and engagement.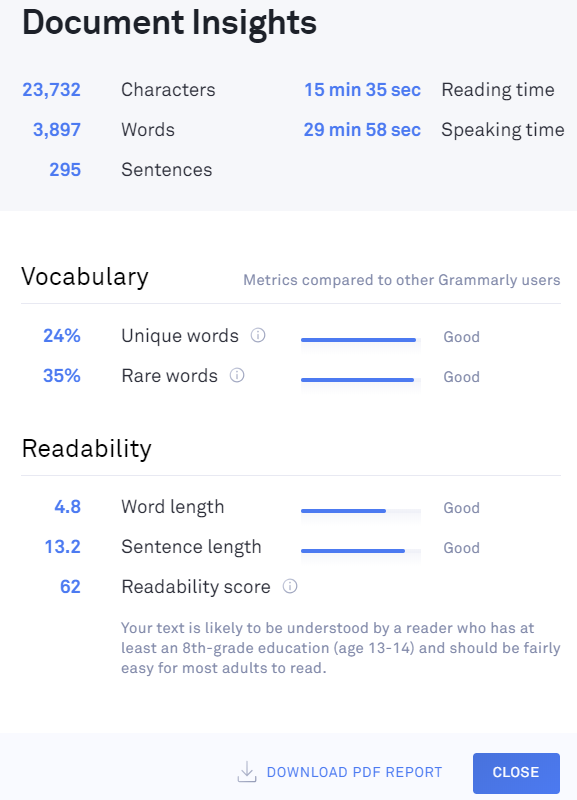 If you need or want a more detailed report, then you will need to upgrade to Premium or Business. This will allow you to do the same as the free version but with the extras. You can make changes when it comes to your choice of words, any sentence errors like run-ons, which voice you're using, if there's any plagiarism, your readability, and more. When working in Grammarly, you will notice this reporting system on the right side of your uploads or typing.
How to Detect Plagiarism Using Grammarly on OpenOffice
Grammarly isn't just a grammar tool. It has the ability to detect plagiarism. While it's only available with the Premium and Business versions, it's still incredibly useful. If you're someone who writes quite a lot, then a plagiarism checker will benefit you. It scans billions of websites to check your work against. Any instances of plagiarism, intentional or unintentional will be brought to your attention. From there, you could choose to rewrite the sentence, use quotations if you forgot to add them, or use citations.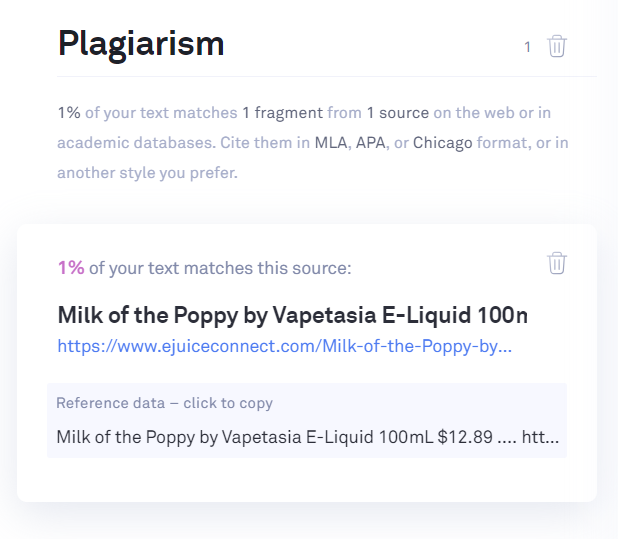 Grammarly does have a proofreading feature as well. This feature isn't available with any version of Grammarly, however. The proofreader is an added feature that you'll have to pay extra for. The cost of the feature will depend on how many words you want to be corrected and how quickly you need it proofread. The benefit of using this feature is that your work is checked by humans instead of a computer. This can catch things that computers may miss.
What Kinds of Errors Does Grammarly Find?
When you load your text in the Grammarly Chrome extension or the desktop app, it will display all the errors it found in a tab on the right. If you're using a free plan, you're limited to only the bare-bones grammar and spell check modules. This will remove most punctuation errors and almost any spelling mistake in the file.
I say almost any because Grammarly isn't perfect and will sometimes think a word is misspelled when it isn't, especially if you're using a different English dialect than usual and haven't made the required change to your Grammarly settings.
If you purchased the Premium plan, however, then the options become more diverse. Grammarly can detect passive voice, word repetition, overuse of frequent phrases and words, improper writing styles, common style and delivery mistakes, and even plagiarism. It also has a database of information to improve your dictionary over time and will show you how many unique words you're using in its weekly reports.
While Grammarly believes that passive voice is a grammatical error, note that sometimes you might be right to leave it in, especially when writing an academic paper or essay. Passive voice conveys objectivity and distance much better and emphasizes the object of the research.
Grammarly can also double as an editing tool, as all integrated versions can edit the text being worked on directly and give you live feedback as you're writing.
If you're still uncertain if this will suit you, you can try out Grammarly for free via the Chrome extension, and only then commit to purchasing and downloading it to your PC to use with Word or as a standalone desktop app.
How to Uninstall Grammarly on OpenOffice
Uninstalling Grammarly for OpenOffice is much easier than it is for other apps. For starters, you don't have any add-ons, integrations, or extensions that you'll need to worry about. Quite simply, you just will not upload your OpenOffice documents to Grammarly or copy and paste your work. You can go a step further if you no longer plan to use Grammarly and uninstall it completely from your device.
Grammarly is the best writing tool around for those that want to improve the way they write. It provides you with checks across grammar, spelling, punctuation, and can even detect plagiarism. It's compatible among different apps and devices making it versatile and the installation and uninstall is very simple. You don't have to take what we say as gold for Grammarly, you can just check out a Grammarly review and see we aren't the only ones who love this grammar checker tool.
Grammarly Alternatives
If you don't think Grammarly will suit you, there are a few alternatives to try out instead. For example, Ginger software is a terrific tool that has an equally robust free version, with a thorough punctuation checker and grammar check modules for easy use. It also has a multilingual function that Grammarly sorely lacks. Additionally, it is much cheaper in the long term.
In contrast, Writer is an AI-based writing assistant that is focused on brand awareness, recognition, and copywriting. While it has a powerful editing tool suite, it emphasizes features that help companies align their writing staff into a unit that delivers a powerful message free from any standard punctuation errors and spelling mistakes.
However, note that no online editing tool currently matches the expertise and training of a human proofreader. While students, freelancers, and amateurs can usually get away with using AI-based software to help with basic issues in their writing, human editors can spot even the smallest mistake and make a proper correction.
However, they tend to give less feedback. To that end, an online editing tool can be a great way to improve by yourself, and the reports generated by Grammarly can give you a quick overview.
We hope you now understand how Grammarly, or an alternative editing tool, can help you improve your writing quality, expand your dictionary and make you a better writer over time.
Most of the tools available online have free versions, so you can compare them and see which one works best for you. If you think of paying for any of them, check out our comprehensive review of the best grammar check software to make the correct choice.