Today's email marketers and small business owners have access to more tools than ever, but choosing the right ones can easily become a full-time job. The software as a service (SaaS) industry is projected to reach $195 billion in 2023, so the field of marketing tools is only expanding.
If you're looking for an email marketing solution, ActiveCampaign and AWeber are two popular choices, especially for smaller businesses.
In this article, we'll cover ActiveCampaign and AWeber's main features, including email, marketing automations, and contact management. We'll also explain how each product is priced and what kind of businesses they work best for. By the end of this post, you'll be able to make an informed decision and move forward with email marketing.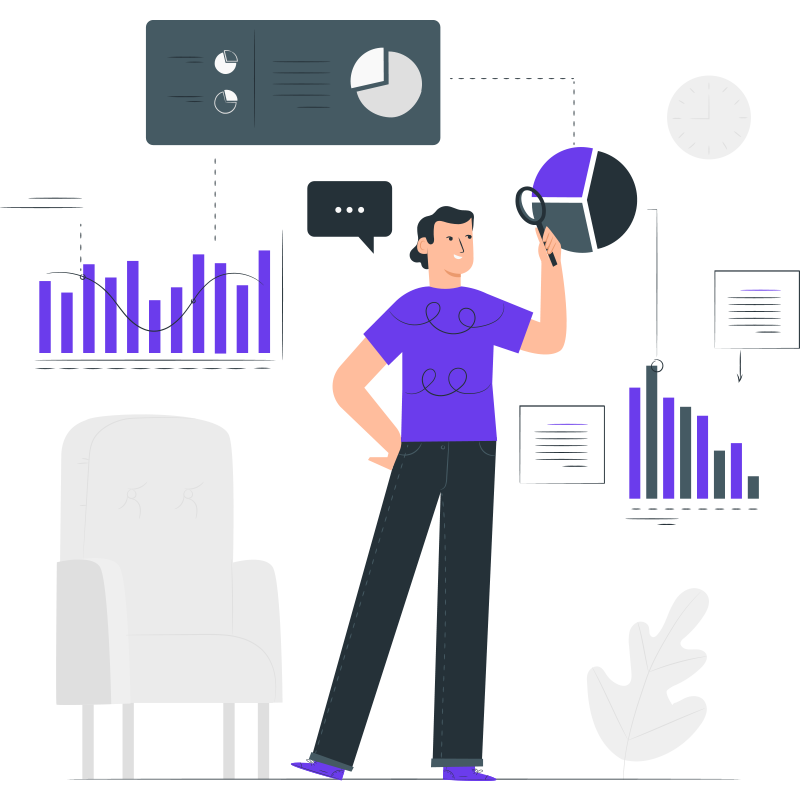 Get long-term ROI.
We help you grow through expertise, strategy, and the best content on the web.
TABLE OF CONTENT
ActiveCampaign overview
ActiveCampaign began as a marketing consulting business in 2003, but it soon grew into a SaaS marketing tool. Today, it's a comprehensive marketing automation platform. It can handle extensive email marketing, sales automation, and customer experience automation. The built-in customer relationship management (CRM) tool allows multiple teams to manage their work in one place.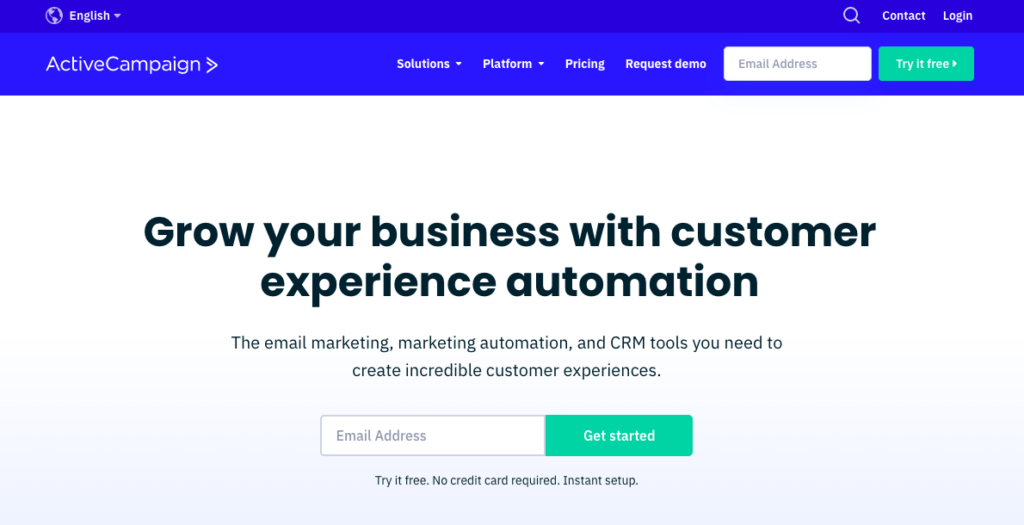 ActiveCampaign serves 180,000 customers from one-person small businesses all the way up to enterprise organizations. The diversity and depth of the feature set makes it accessible and valuable to any business.
AWeber overview
AWeber is primarily an email marketing tool for small businesses, but the platform also offers landing pages and what they call "ecommerce pages."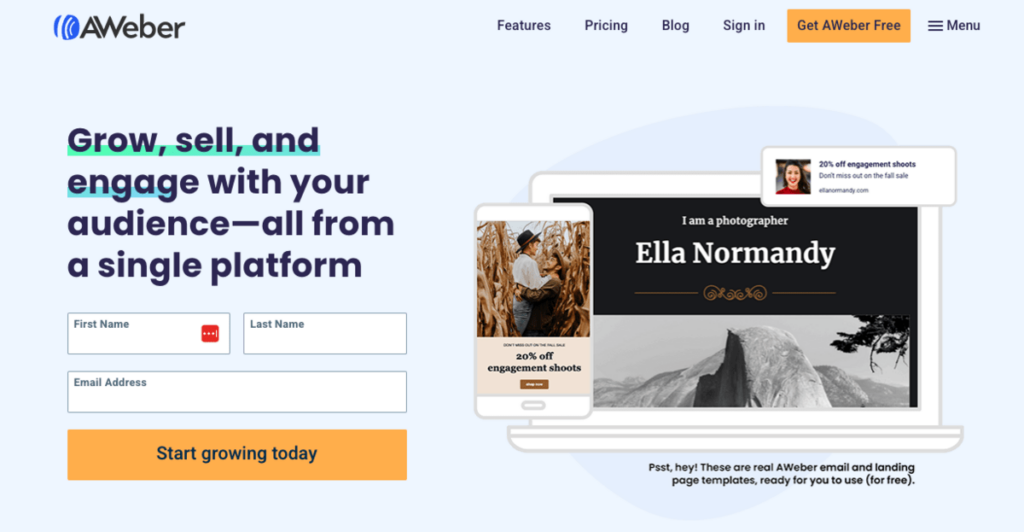 Like ConvertKit, AWeber caters to very small businesses trying to build an email list. Additional features, such as email automation, push notifications, and landing pages give their customers more ways to collect email addresses and interact with their target audience.
ActiveCampaign features
ActiveCampaign is a suite of digital marketing tools in one product. It handles email marketing, multichannel campaigns, and customer relationship management.
Emails
ActiveCampaign's email marketing platform is designed to handle both basic needs, such as newsletters, promotional emails, and drip campaigns, but it can also implement complex, personalized email campaigns. Because it offers transactional emails, receipts, and more, you can manage all your email messages in one place.
The drag-and-drop email designer is easy and intuitive, but you can also choose from more than 250 responsive email templates. You can also add personalized elements and dynamic content with a few clicks.
CRM
Half the battle of finding the right marketing tools is figuring out what will integrate with your CRM. ActiveCampaign simplifies things by offering a built-in CRM. This means sales, marketing, and customer service can all work harmoniously with accurate information.
With more detailed contact records and behavior tracking, you can implement advanced segmentation and send more relevant and appealing emails.
Automation
ActiveCampaign really shines when it comes to automation features. In fact, users gain access to more than 800 automation "recipes," which are pre-built workflows that allow you to set up nurture campaigns, abandoned cart emails, and more. With the simple workflow builder, though, you can also build custom automation workflows based on a range of time-based and behavioral triggers.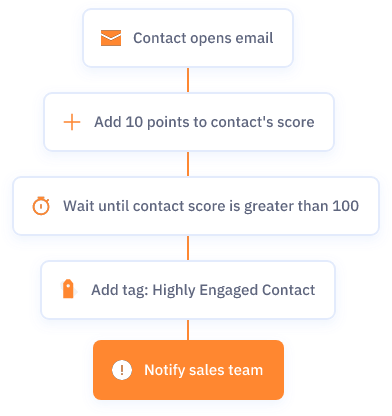 With a built-in CRM, SMS capabilities, and social media integrations, ActiveCampaign gives you the power to build multi-channel automation workflows. Email tracking and behavior tracking allow you to cater to a potential customer's needs at every stage of the sales process.
Integrations
Although ActiveCampaign offers a wide set of functionalities, the platform is also set up for maximum integrability. Customers can choose from more than 870 integrations. Shopify, WooCommerce, eBay, Shipstation, and Stripe are just some of the ecommerce integrations. ActiveCampaign also has pre-built integrations for social media platforms, social media management tools, and project management tools.
Customer support
ActiveCampaign offers live chat and email support to all users, as well as data migration services. There are community and user discussion forums where customers can share their ideas and tips. ActiveCampaign has also created in-depth onboarding courses, videos, guides, and help articles.
AWeber features
AWeber is primarily an email marketing tool for small businesses. It has some additional features but few advanced capabilities.
Emails
AWeber users have access to 600+ email templates for newsletters, marketing campaigns, holidays, and more. The platform also has a library of stock images to draw from. For custom images, AWeber allows you to use Canva without leaving the platform.
The drag-and-drop email designer allows you to add dynamic content, showing your contacts emails relevant to their interests.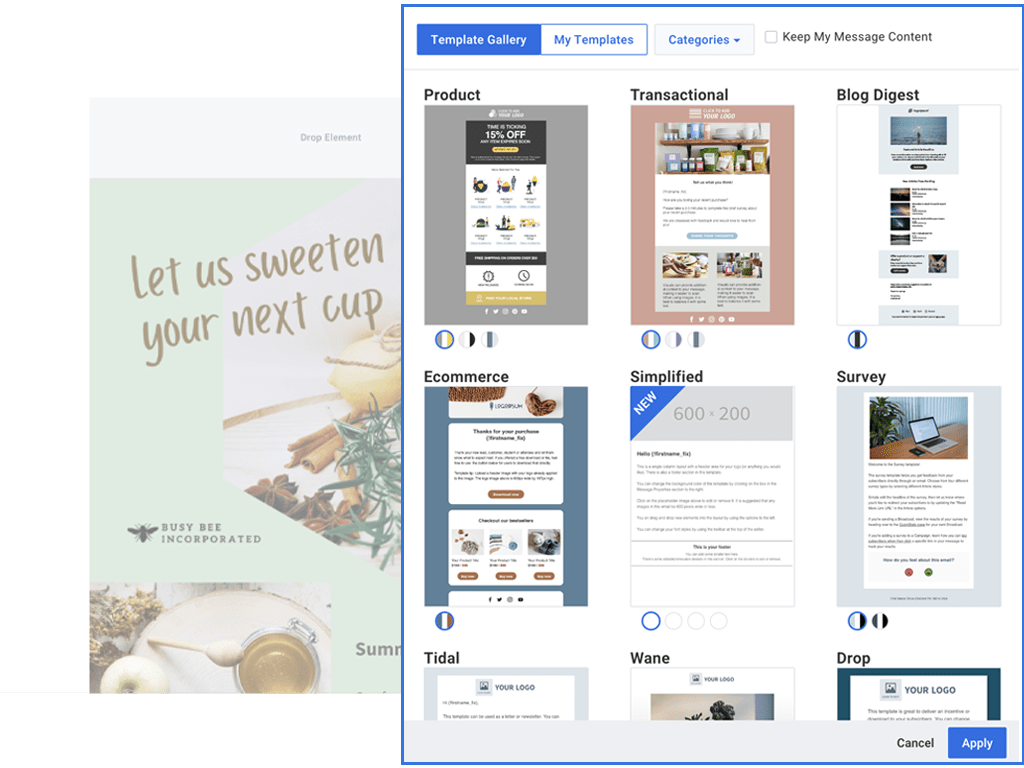 With the email designer, there's no coding required so you can create professional-looking emails that look great on any device.
CRM
Although AWeber enables businesses to build a contact list, it doesn't include a CRM. To manage your email list, they have basic segmentation tools like tags and custom fields.
Automation
AWeber customers can implement common email marketing automations, such as lead magnet delivery, welcome emails, and abandoned cart emails. You can create automations with a drag-and-drop builder, specifying your triggers, frequency, and timing.
Integrations
AWeber doesn't have the same breadth of features as ActiveCampaign, but they do have hundreds of integrations to help you connect with the other tools you'll need. Ecommerce integrations include Chargebee, Chargify, Shopify, PayPal, and Etsy.
Although AWeber doesn't offer a CRM, the platform integrates with HubSpot, Freshsales, Pipedrive, Zoho, and Salesforce. GoToMeeting, Zapier, Calendly, and SurveyMonkey are just a few of the hundreds of other integrations.
Customer support
AWeber offers email, live chat, and phone-based support, although phone support is only available for higher-level plans. Users with the Free plan only receive basic email support, but all paid plans include 24/7 support (with more expensive plans taking priority).

ActiveCampaign pricing
With ActiveCampaign, you can choose which tools you need, either Marketing (Email & Marketing Automation), Sales (CRM & Sales Automation), or both.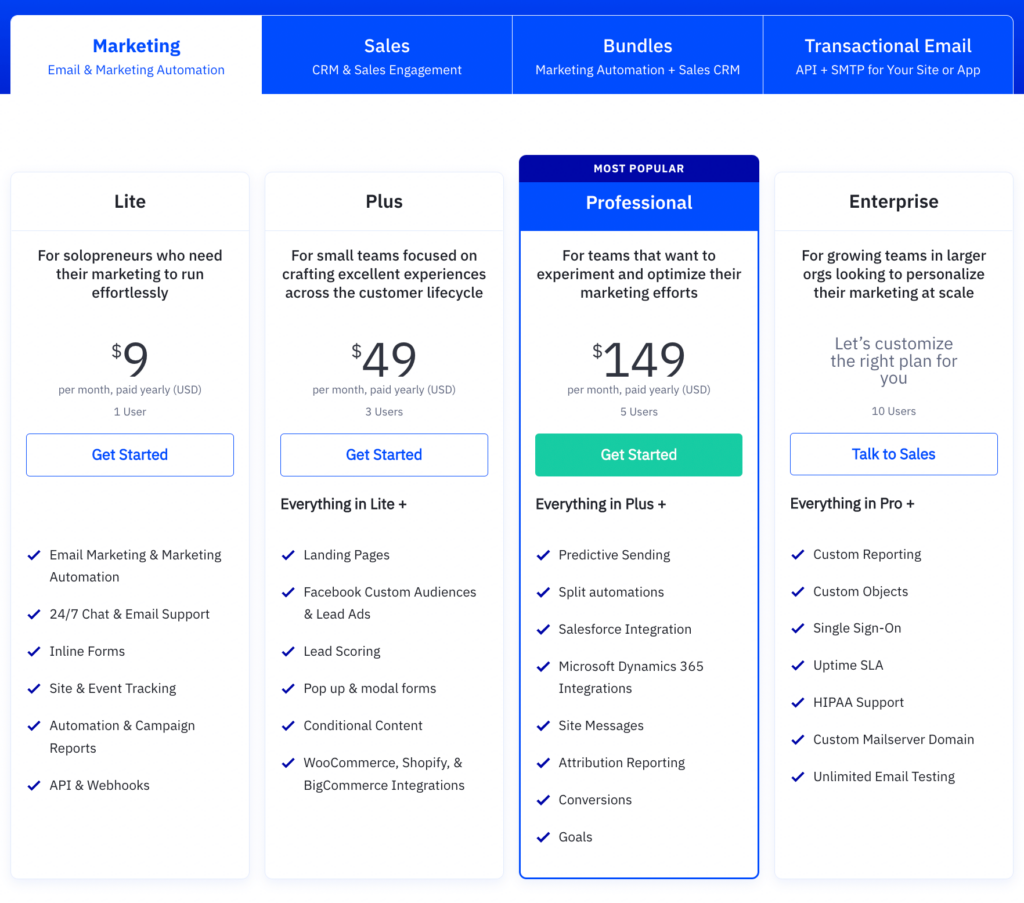 One helpful addition is that all ActiveCampaign plans come with data migration services to help you get up and running.
Here's a look at what each package offers.
Marketing
Lite: The Lite is the most basic plan and starts at $9 per month with one user. It includes email marketing and email automation.
Plus: Starting at $49 per month, the Plus plan includes three users. It also comes with landing pages, lead scoring, Facebook custom audiences, and pop up forms.
Professional: The Professional plan is the most popular choice among ActiveCampaign users. Starting at $149 per month for five users. Additional features include predictive sending, split automations, and integration with Salesforce.
Enterprise: The Enterprise plan includes 10 users, as well as enterprise security, custom reporting, and single sign-on. Contact the sales team for a custom quote.
Sales
Plus: The Plus plan is the most basic sales plan and starts at $19 per month. It includes lead capture forms, the CRM mobile app, inbox browser extensions, sales automations, and more than 850 automation recipes.
Professional: At $49 per month, the Professional plan. It also comes with sales engagement automations, split automations, win probability, and automations map.
Enterprise: For larger teams, the Enterprise plan gives you all of the above features as well as single sign-on, HIPAA support, and custom objects. You can talk to ActiveCampaign's sales team for a custom quote.
Bundles
Plus: For $93 per month, you can get both the sales and marketing Plus plans for up to 1,000 contacts. This bundle includes 5 users.
Professional: Organizations can get the Professional bundle for $386 per month. It includes 10 users and 2,500 contacts.
Enterprise: If you want the very best of both ActiveCampaign's sales and marketing tools, get in touch with the sales team for a custom quote.
AWeber pricing
AWeber also offers plans at a base monthly rate. Confusingly, all the paid plans list "unlimited subscribers" but when you read the fine print, the price goes up once your subscriber count exceeds 500.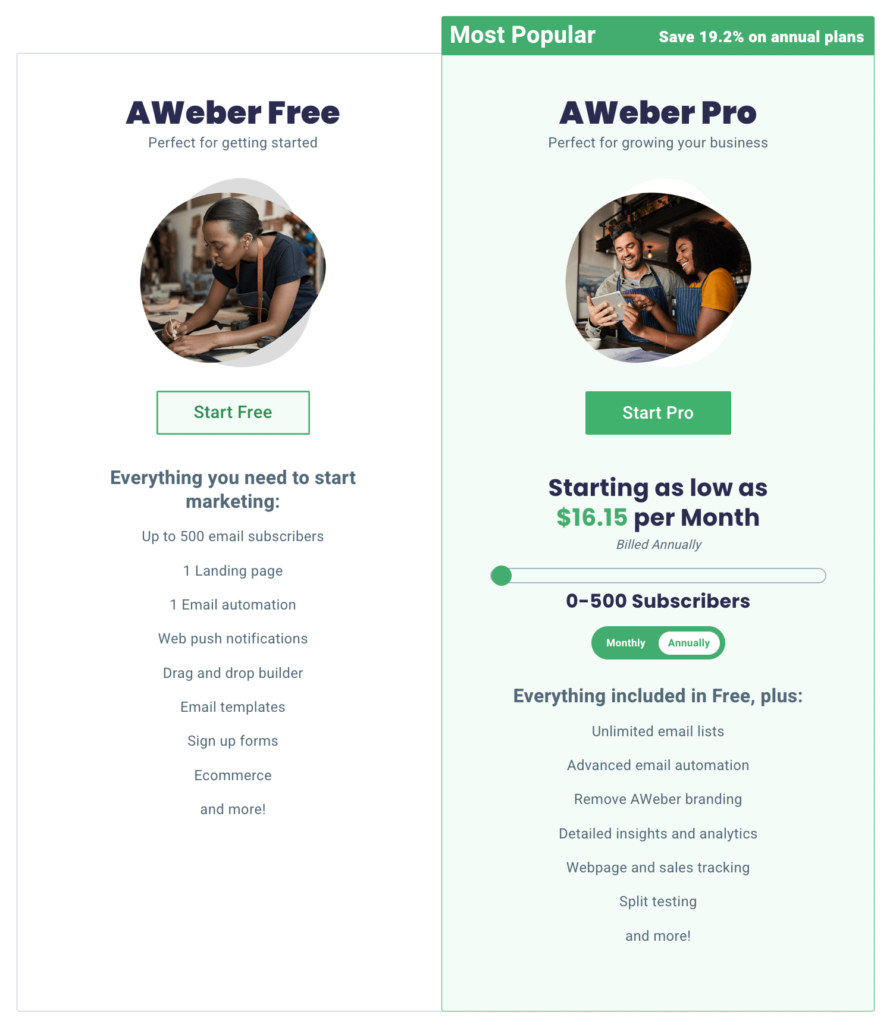 Free: The Free plan includes one email list, one landing page, and one email automation for up to 500 email subscribers. Most businesses could only use it as a way to test the product or start collecting email addresses.
Pro: With the Pro plan, you get unlimited email lists, advanced automations, webpage tracking, and more. You can also remove the AWeber branding from your marketing materials.
What's the difference between ActiveCampaign and AWeber?
While they're both email solutions, ActiveCampaign and AWeber provide very different capabilities. Simply put, ActiveCampaign offers a far more advanced feature set, while AWeber offers a simpler tool for maintaining an email list.
The fact that ActiveCampaign has more to offer is reflected in user reviews, which scores 4.6 out of 5 stars compared to AWeber's 4.2 out of 5 stars on G2 — a popular platform that reviews software.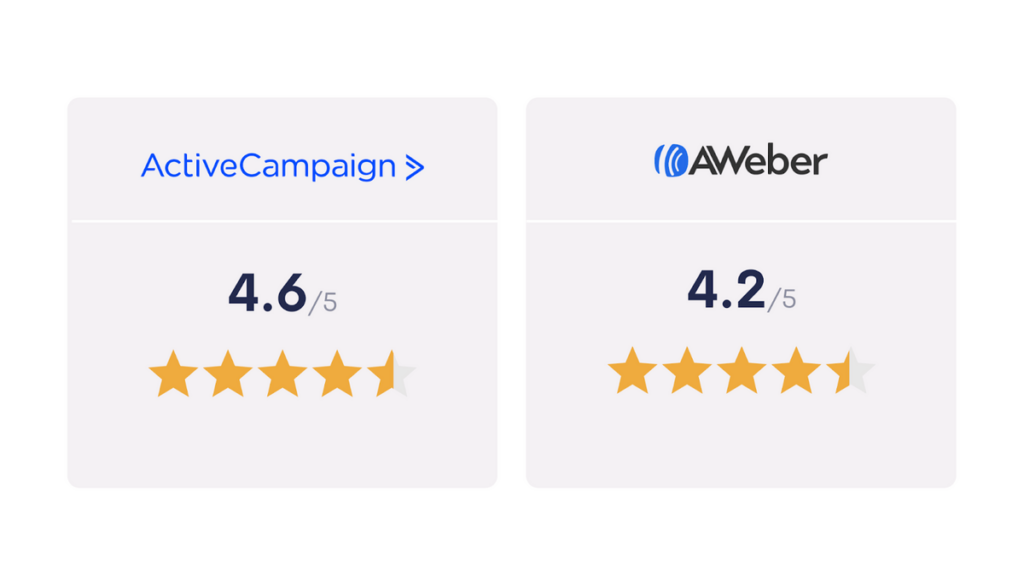 Who is ActiveCampaign best for?
ActiveCampaign is a comprehensive marketing tool that adapts to all business sizes. Its user-friendly automations and CRM make it a great fit for ecommerce businesses, and others seeking a powerful set of tools without buying a slew of different products.
Who is AWeber best for?
AWeber is an adequate tool for very small businesses looking to build an email list and send occasional emails. It's best-suited for businesses that don't rely heavily on digital marketing.
Comparing ActiveCampaign and AWeber
ActiveCampaign and AWeber illustrate how two tools that are ostensibly in the same category can vary widely in their feature sets.
ActiveCampaign is a full suite of email and marketing automation tools, whereas AWeber is limited mainly to email and landing pages.
If you just want to build an email list with lead magnets, AWeber is a simple tool for the job. However, if you have bigger aspirations, ActiveCampaign gives you the power to grow and advance your marketing strategy.
Start your 14-day free trial of ActiveCampaign today.