Garry Kasparov MasterClass review synopsis
What you'll learn: You'll learn how to play chess with foundational lessons in strategic thinking and mental toughness, while also learning a series of tactics, openings, and end games taught by arguably the best chess player in the world.
Run time: 455 minutes, or about 7.5 hours
Pairs well with: Robin Arzon Teaches Mental Strength, Daniel Negreanu Teaches Poker, Phil Ivey Teaches Poker Strategy, and Will Wright Teaches Games Design and Theory
Recommendation: Whether you're a seasoned chess player or a newbie looking to start somewhere, this MasterClass will take how you think about strategy and grit to a whole new level. If you're still not sure about this MasterClass, keep reading — we'll explain everything you need to know.
The very first time I played chess was in a moving car as a child, using one of those miniature magnetic boards for kids that kept the pieces from flying everywhere when we hit a bump in the road.
Then, many years later (after binge-watching the Queen's Gambit), I wanted to learn the strategy behind the moves.
Garry Kasparov's MasterClass offered the opportunity to learn the game from one of the best chess players out there.
But I was skeptical that I could actually learn the game of chess through a screen.
However, not only did I learn to play chess, but I also gained analytical thinking skills I didn't have before.
In this review, we'll break down exactly what Garry Kasparov's MasterClass has to offer, including the cost, teacher, curriculum, and main takeaways so that you can decide whether or not it's worth it for you.
Disclosure: In the interest of full transparency, Codeless uses affiliate links in our MasterClass reviews to cover our site's costs
Our Verdict
Gary Kasparov's talent way of thinking about chess is unlike any other, and provides insights into analytical thinking and strategy as a whole, as opposed to just on the chessboard. 10/10 recommend.
Garry Kasparov Masterclass
Become a Pro at Chess
PROS
Learn analytical skills in chess
Organised in genius, unconventional way
Get takeaway positions and practice problems
Watch Kasparov play live
CONS
The simul isn't necessary
In this MasterClass review, you'll learn:
A few frequently-asked questions (FAQs)
Since I've already started singing praises for Garry Kasparov's MasterClass, let's back up a bit.
Here are some of the most common questions I've come across…
Do I need a subscription to access this course?
Yes, you need a MasterClass subscription to take the course. A subscription will unlock not only this course, but all of the courses offered in the MasterClass collection for you to take at your leisure. You could take classes taught by famous celebrities like Annie Leibovitz, Shonda Rhimes, Anna Wintour, and Jane Goodall to name a few.
How good is Garry Kasparov?
Gary Kasparov is arguably the best chess player in the world, and is known for his intuition and ability to calculate extremely complex positions.
Does MasterClass have a cancellation policy?
You can cancel your MasterClass membership at any time. If you sign up and aren't happy with your membership for any reason, you can contact MasterClass within the first 30 days for a full refund.
Is the Garry Kasparov MasterClass worth it?
Yes, the Garry Kasparov MasterClass is worth it for chess players at all levels, providing a wealth of knowledge on strategy, tactics, openings and endings, as well as insight into how to take your strategic thinking skills to the next level.
[Learn the Slay the Chess Board, Starting Today]
About Garry Kasparov
For over 21 years, Garry Kasparov was ranked as the number one chess player in the world, holding the highest peak rating of any chess player until 2013.
He won his first World Championship in 1985 at age 22 — the youngest chess player to ever accomplish such a feat — and has only ever lost 200 of the 2,515 chess games he's played on record (that's a 93% success rate).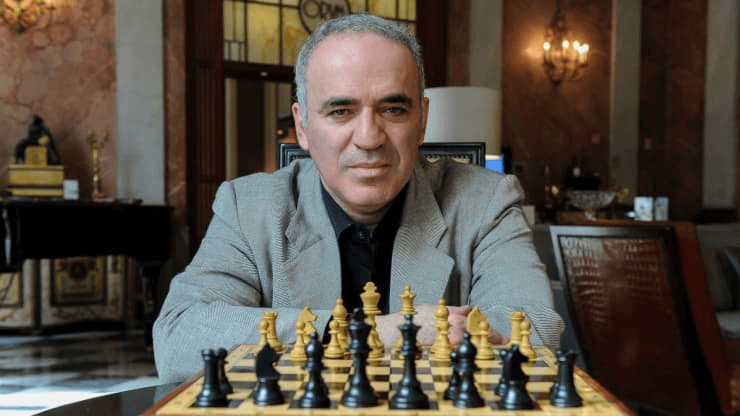 In his MasterClass, this world chess champion recalls his first real tournament played at the young age of 9. He played Blitz Chess that tournament, and made it to the finals where he faced real chess masters. Even though he lost every game in that final except for one, that day, he felt lucky to have found the game.
"It's something that perfectly fits my personality," Kasparov said. "We're all good for something. Memory, analytical skills, brute force of calculation, for me everything in chess fits perfectly."
A short breakdown of the Garry Kasparov Masterclass course:
MasterClass is sometimes criticized for having courses that are more aspirational or entertaining than informative or educational. I can say with absolute certainty that Kasparov's MasterClass is not too much of either of those things — after taking this class, you'll walk away with the practical ability, confidence, and skill set to sit down at a board and play a game of strategic chess.
In a nutshell, this class includes:
Chess fundamentals and mental strategies
Deep dive into double attacks
Tactics like skewers, discovered attacks, pins, deflection, attraction, interference, overload, and winning trades
Endgames
Openings
Live show of Garry playing chess against three players
Critiques of those three players games
Gary's thoughts on analytical strategies and computers
How much does Garry Kasparov MasterClass cost?
Garry Kasparov's MasterClass costs you a MasterClass membership, or $180 a year. You can't just buy Gary Kasparov's MasterClass as a standalone purchase — you have to buy the full subscription, which includes access to all of MasterClasses courses.
That $180 will get you MasterClass's Standard plan. You can upgrade to their Plus plan or Premium plan to increase the number of devices that can watch at the same time, or to download the video lessons to watch or listen to without an internet connection. Those plans will run you $240 and $273 a year, respectively.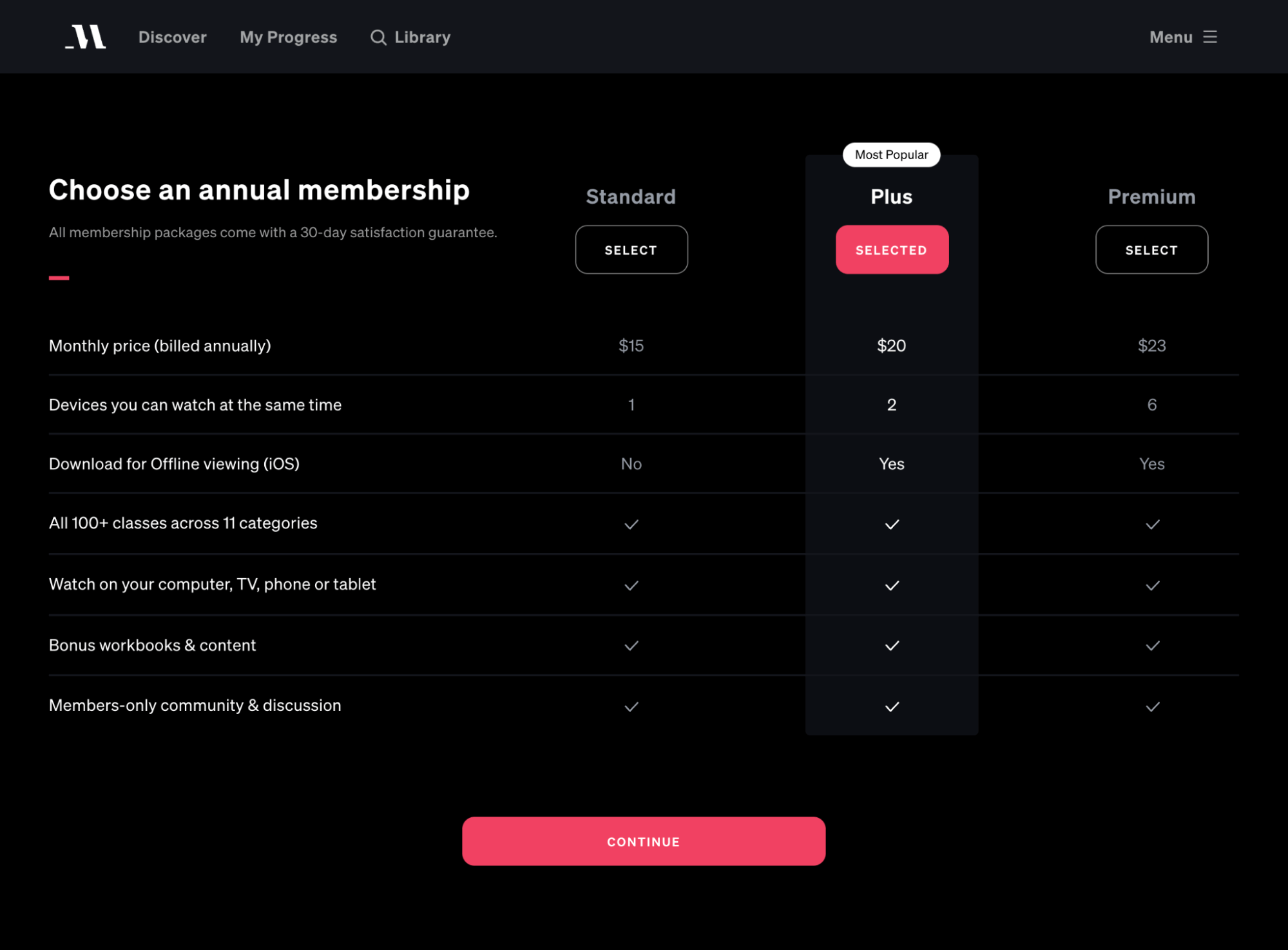 For the amount of educational content you get for this cost, a MasterClass membership is absolutely worth the money. All of their instructors are on the same level of experience as Garry Kasparov — all true, well-known masters of their field.
[Unlock Gary Kasparov's MasterClass with a Membership]
What is included in the Garry Kasparov masterclass?
Runtime: 455 minutes or about 7.5 hours
Course Value: 4.8 stars
Lessons: 29
Supplementary materials: Student workbook and discussion forum
Supplementary workbook
The workbook for this MasterClass is 86 pages long, and is organized by chapters that have the same titles as the video lessons for easy reference. This sample from the workbook showcases a summary of Garry's simul, which is the longest video lesson in the series, clocking in at 53 minutes long.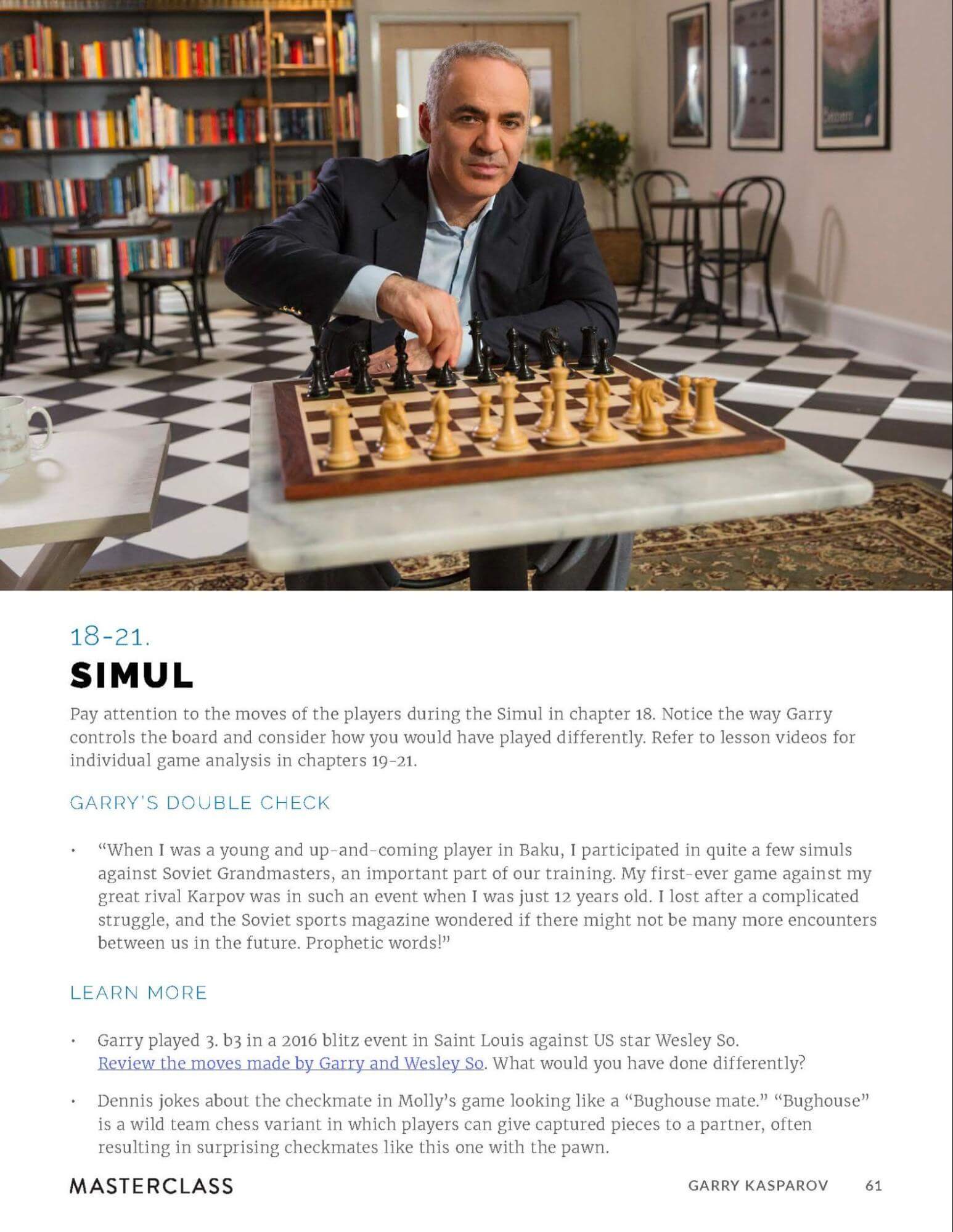 The majority of the workbook consists of several practice positions that align with the video lessons in the MasterClass course.
Here's an example of a two-part double attack which students can use to reference different positions for practice: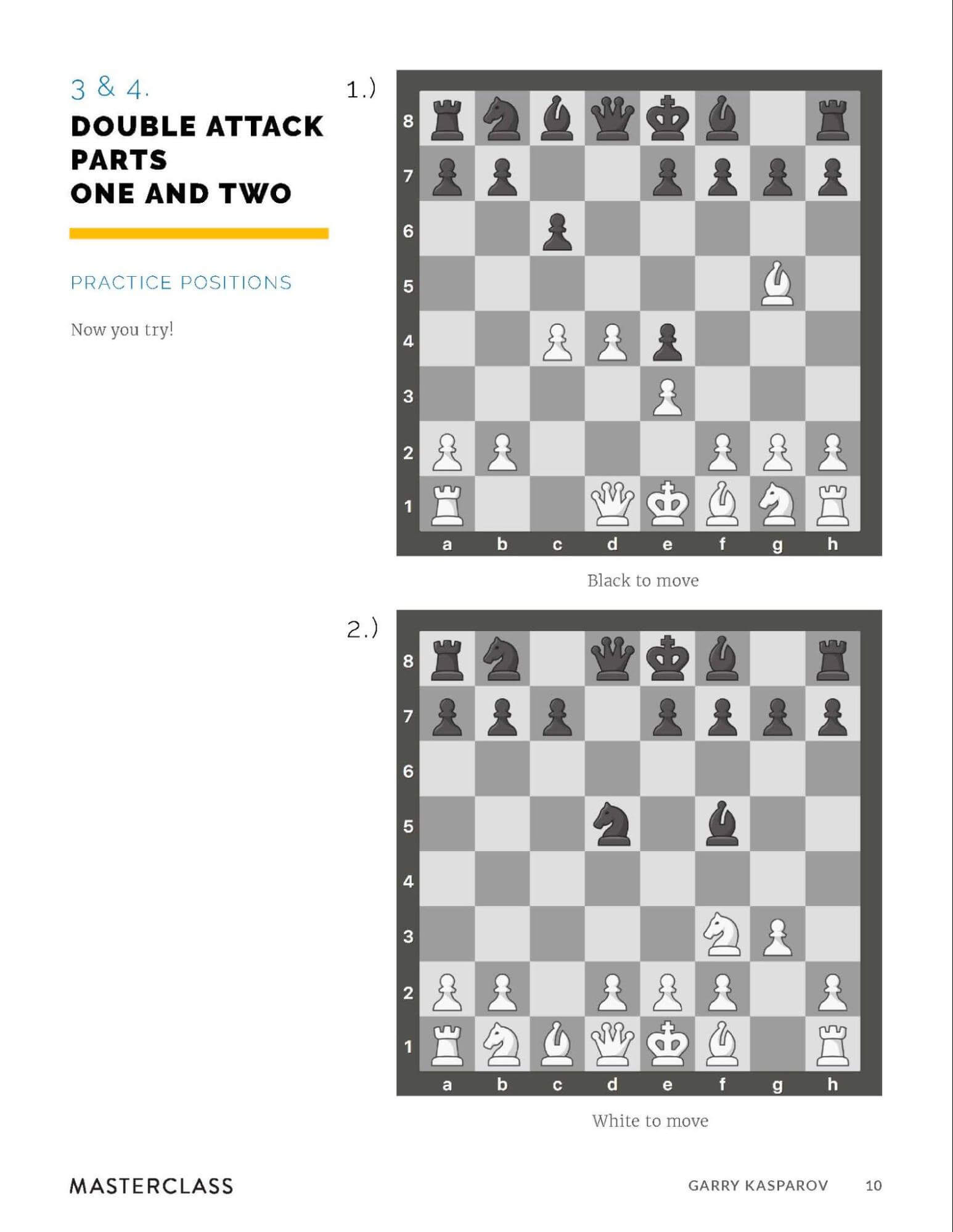 The MasterClass Hub
If you're having trouble understanding a specific concept in the course, or if you just want to connect with fellow classmates, you can use the MasterClass hub to read or participate in online discussions about the lessons.

It also helps to use the best writing apps or grammar checkers if you feel like engaging in some fun, intellectual discourse.
In Garry Kasparov's MasterClass hub, you'll find discussion threads about things like specific attacks, students looking to find other players who want to practice in person, how to win specific trades, or new solves for openings that other players have discovered.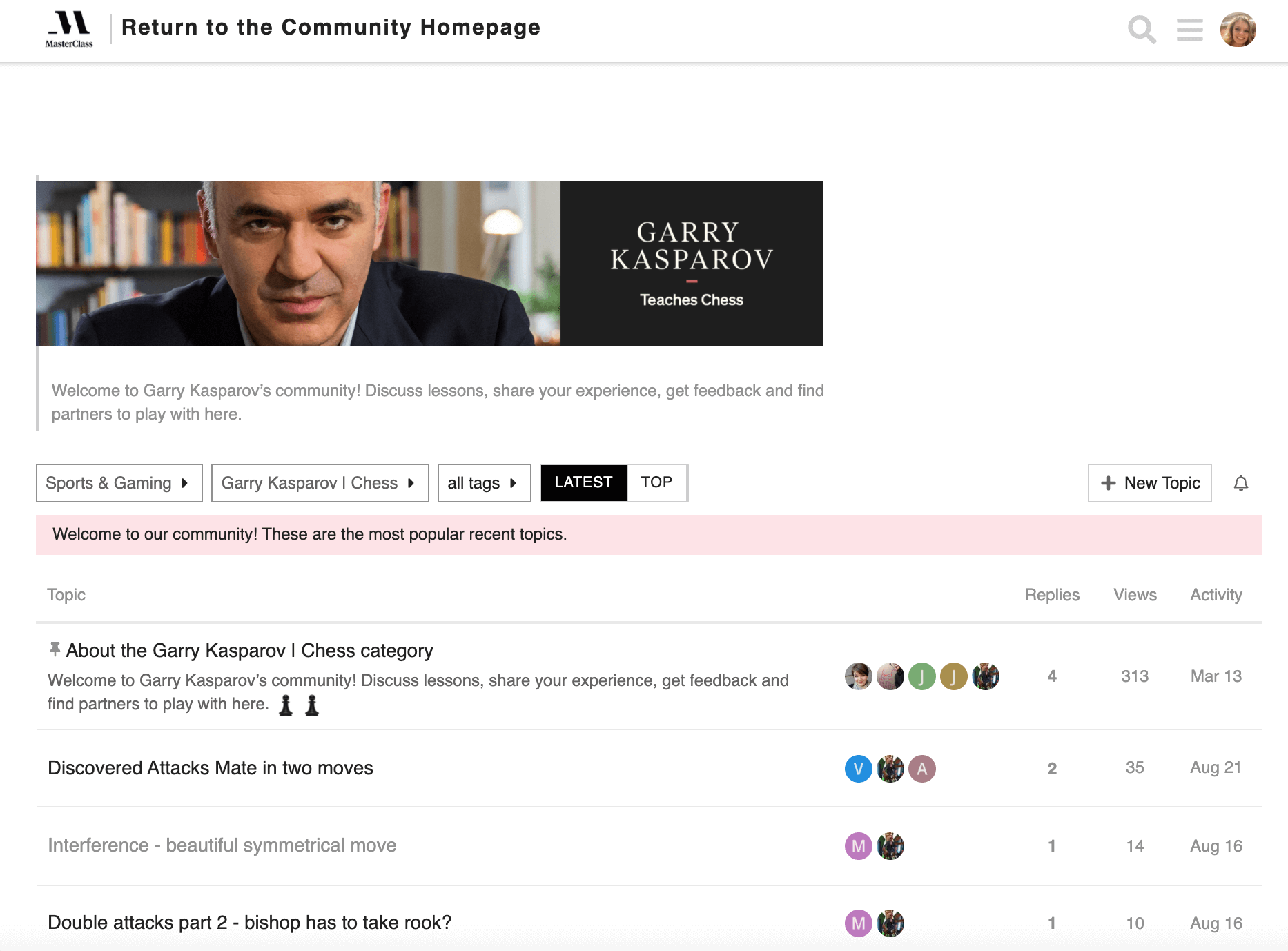 Click into any specific thread to take part in a conversation, or start a new topic to start a brand new conversation for students to find and participate in.
A complete breakdown of the Garry Kasparov MasterClass curriculum
Garry Kasparov's MasterClass course is one of the longest courses available on the MasterClass platform. His video lessons can be found on his course landing page, shown below, and range from five to 53 minutes long.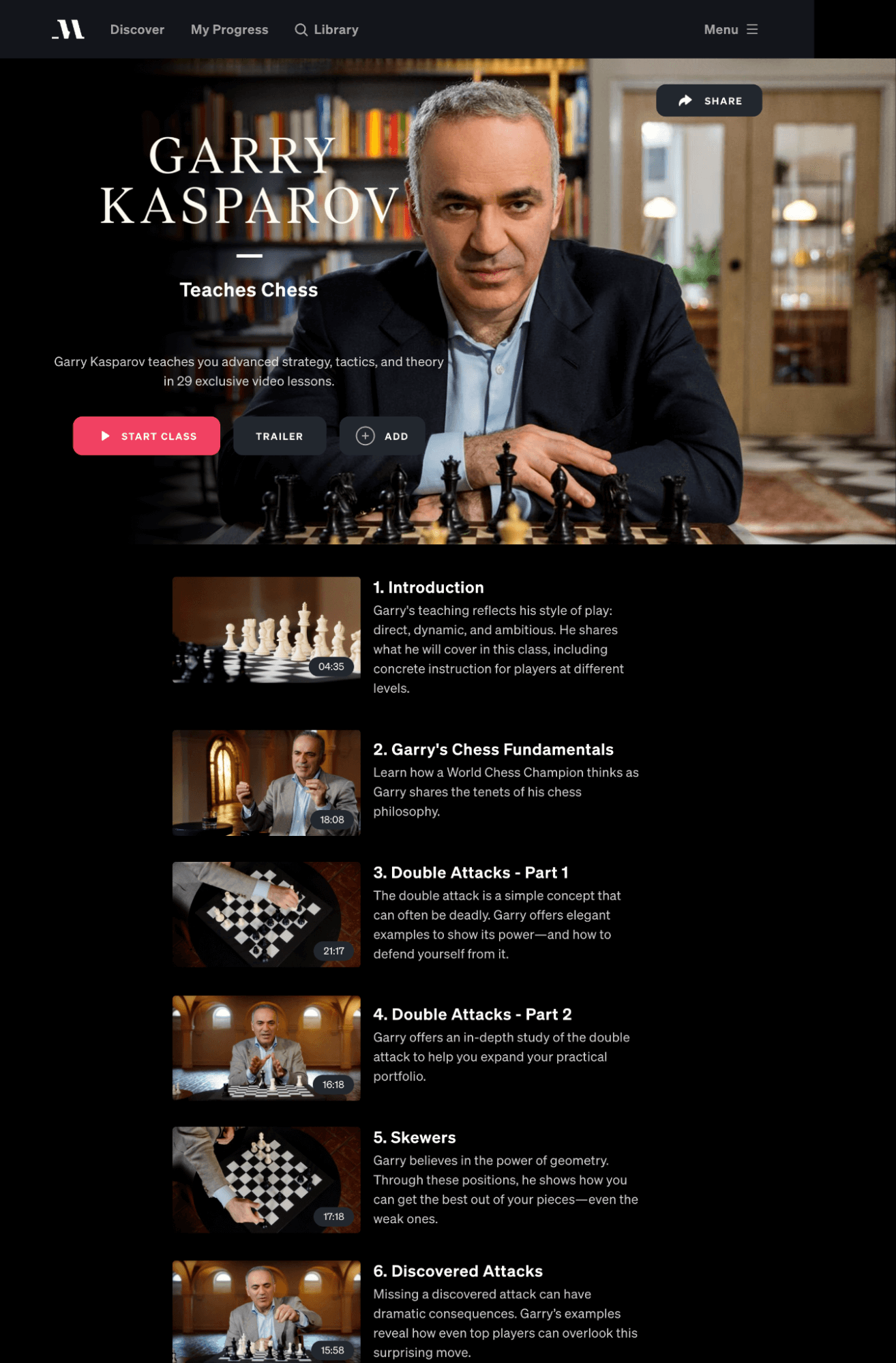 Curriculum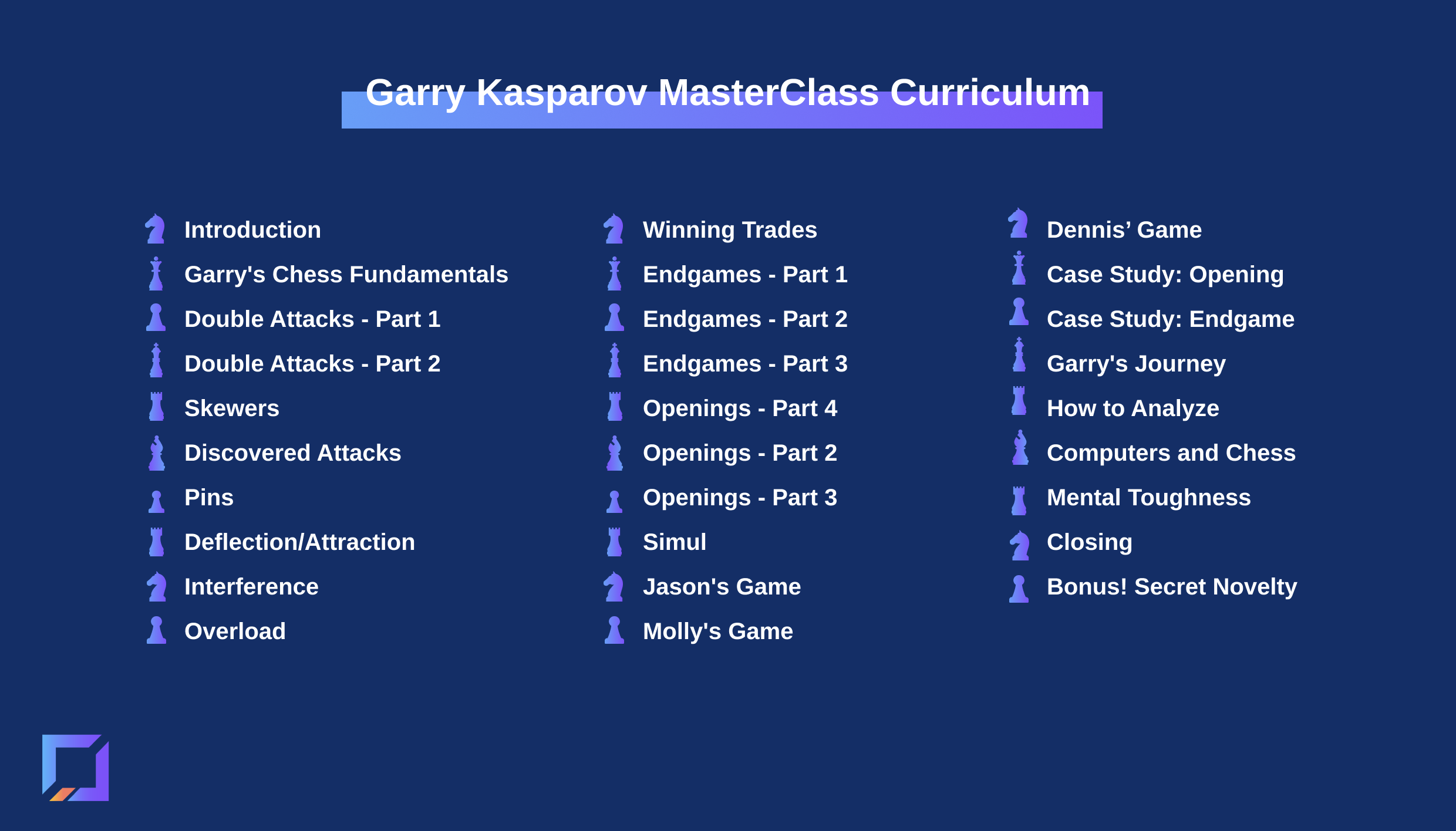 Kasparov's MasterClass covers fundamentals, strategy, and tips for how to make it through a game with mental strength, as well as deep dives into several tactics, openings and end games.
In total, it looks like this:
Introduction
Garry's Chess Fundamentals
Double Attacks – Part 1
Double Attacks – Part 2
Skewers
Discovered Attacks
Pins
Deflection/Attraction
Interference
Overload
Winning Trades
Endgames – Part 1
Endgames – Part 2
Endgames – Part 3
Openings – Part 1
Openings – Part 2
Openings – Part 3
Simul
Jason's Game
Molly's Game
Dennis' Game
Case Study: Opening
Case Study: Endgame
Garry's Journey
How to Analyze
Computers and Chess
Mental Toughness
Closing
Bonus! Secret Novelty
Course summary
You'd think that if you were learning how to play a chess game for the first time, you'd start by learning about the first moves you make — openings. But Garry Kasparov starts off in a completely different place, which is one of the most genius and valuable things about this MasterClass course.
The course kicks off with the fundamentals of the game, which includes a tour of the board, a tour of the pieces, Kasparov's chess philosophy, and a few pieces of advice from the chess master.
"If you want to make real improvement, play with real pieces," Kasparov said. "Psychologically it's more difficult to combine the knowledge from the screen and apply it at the chessboard. So when you learn online, you just make it harder on yourself."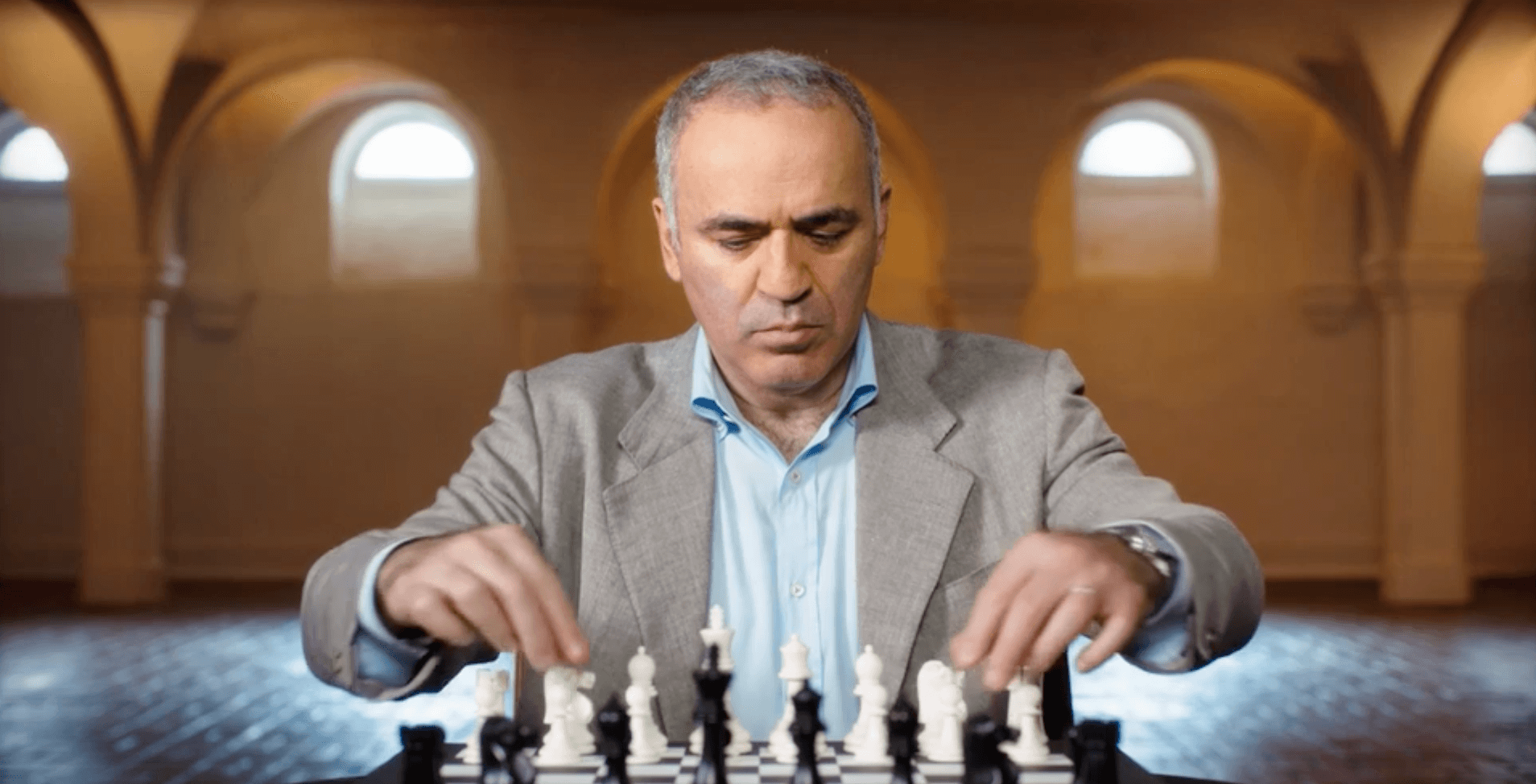 Your first tactical lesson is a deep dive into double attacks, which are among the most aggressive moves you can take on a chessboard. Kasparov shows their power right from the beginning, and provides an explanation of why he believes you should start with this move to expand your chess portfolio.
All lessons from this point on are taught with a split video screen. On the left, you'll see Gary demonstrating live, and on the right, you'll see a digital recreation of the position at hand.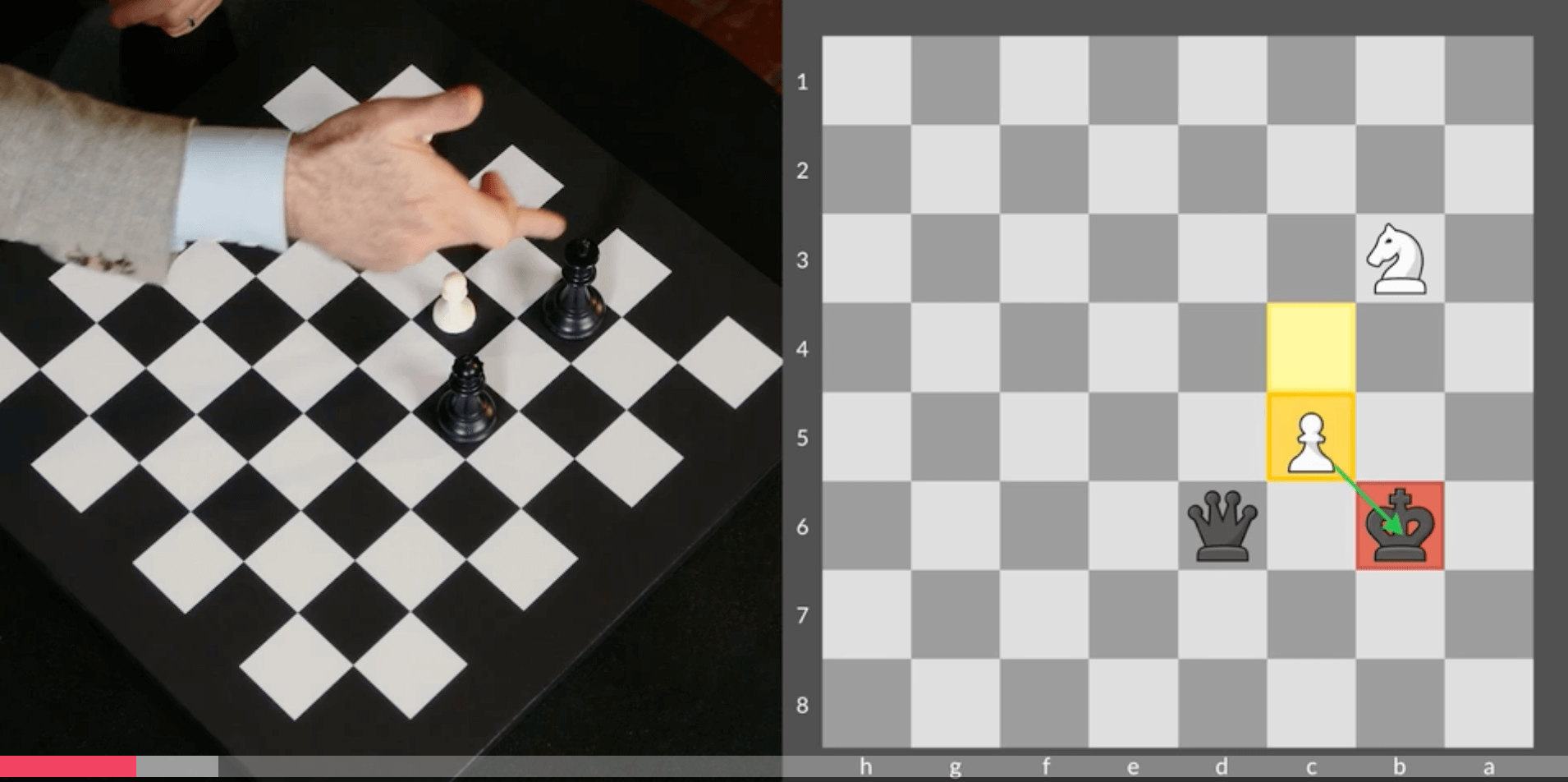 After you've worked through two in-depth double attack lessons, Kasparov works to expand your chess portfolio as promised. He goes through several common moves like skewers, discover attacks, pins, attraction, inference, overload and winning trades.
Each of these moves not only expands your chess portfolio, but adds an additional strategic element. For example, skewers teach students to bring geometry into their games, whereas pins help them to learn to paralyze opponents' pieces.
Finally, once you've moved through all of the ways you can interact with your opponent in the midst of a game, Kasparov teaches his students how to end and open a game. Both endings and openings are given three video lessons worth of real estate within the course, as they are both very important parts of the game that set the tone for game play.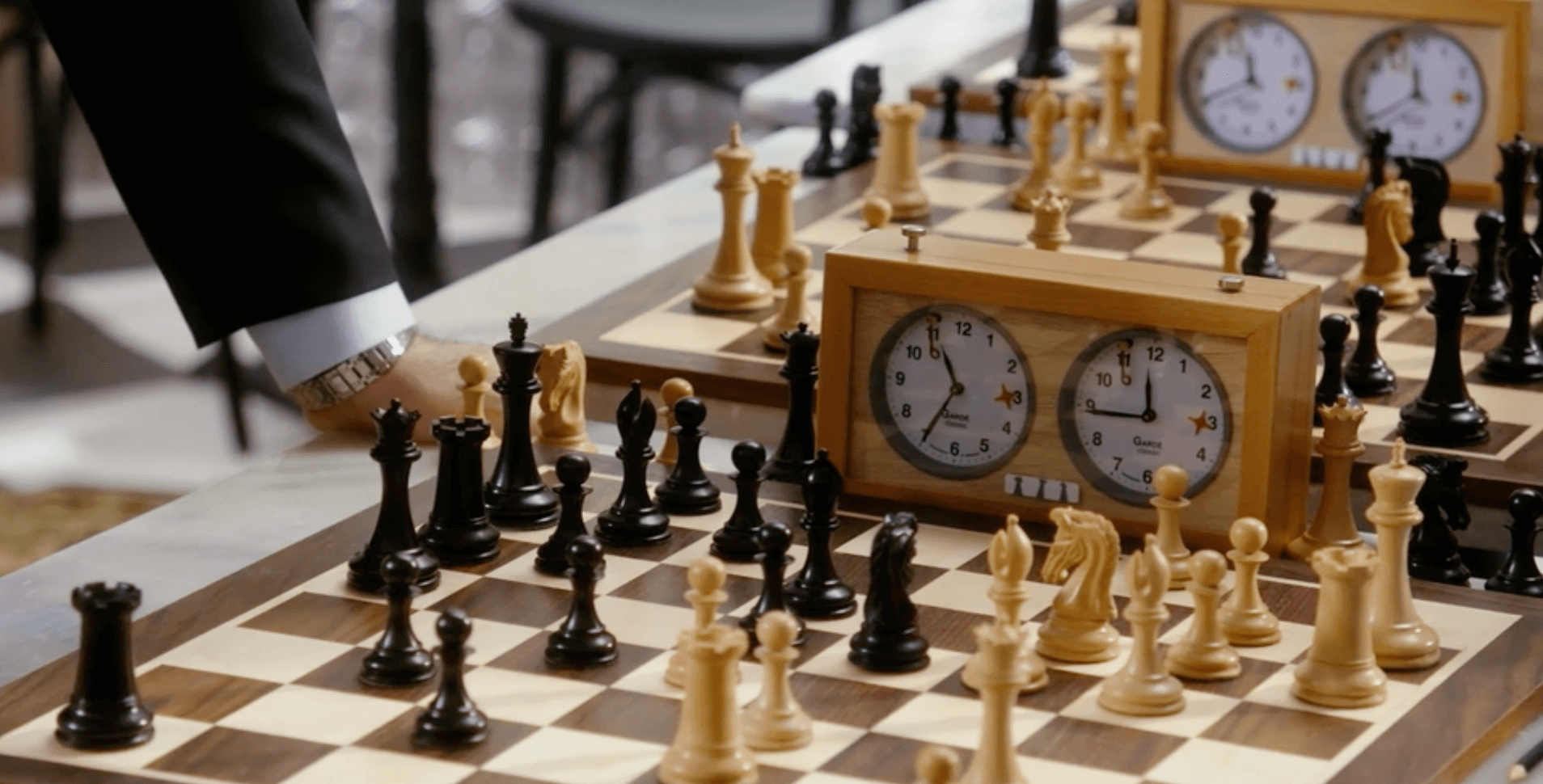 The last third of the course is all about analysis, which includes watching Kasparov play an hour-long simul — or a game where he plays against three high-rated players at once.
Then, he sits down with each of the players in a dedicated video lesson to analyze their games with them and provide constructive feedback.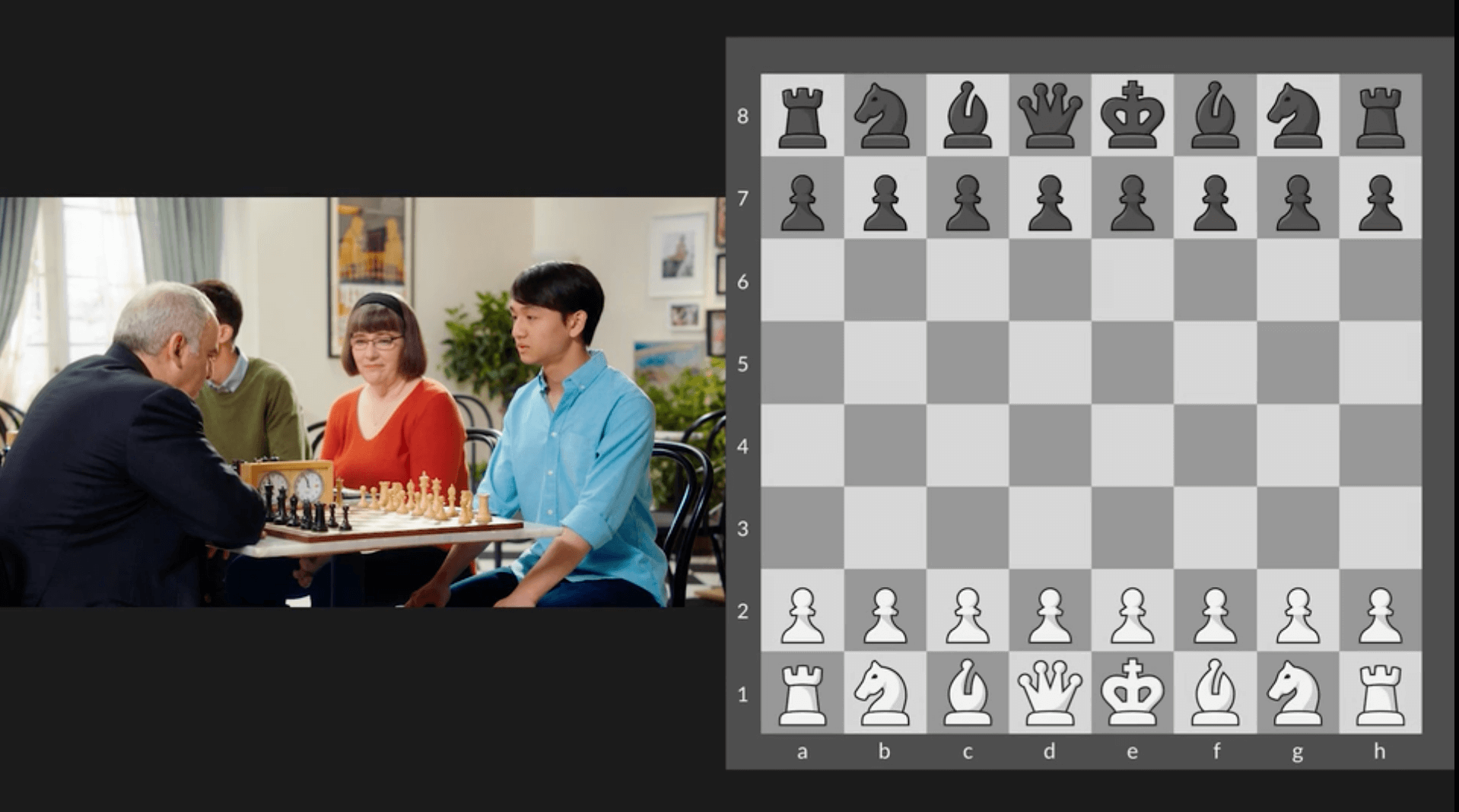 As a part of teaching his students analysis, Kasparov analyzes his own games for students on screen by walking through three different case studies which cover games where he made critical mistakes or made particularly dramatic moves.
Finally, Garry closes the MasterClass with a series of video lessons on his own experiences as a chess player, his thoughts on computers and chess, his own chess journey, and thoughts on mental toughness.
What I learned
I did indeed learn to play chess, but I learned much more than that. I also learned analytical strategies for problem solving that I will take with me into other areas of my life.
5 takeaways from this MasterClass
I played a lot of chess with my very patient boyfriend during the course of this MasterClass. Besides the obvious new chess positions, here are a few takeaways.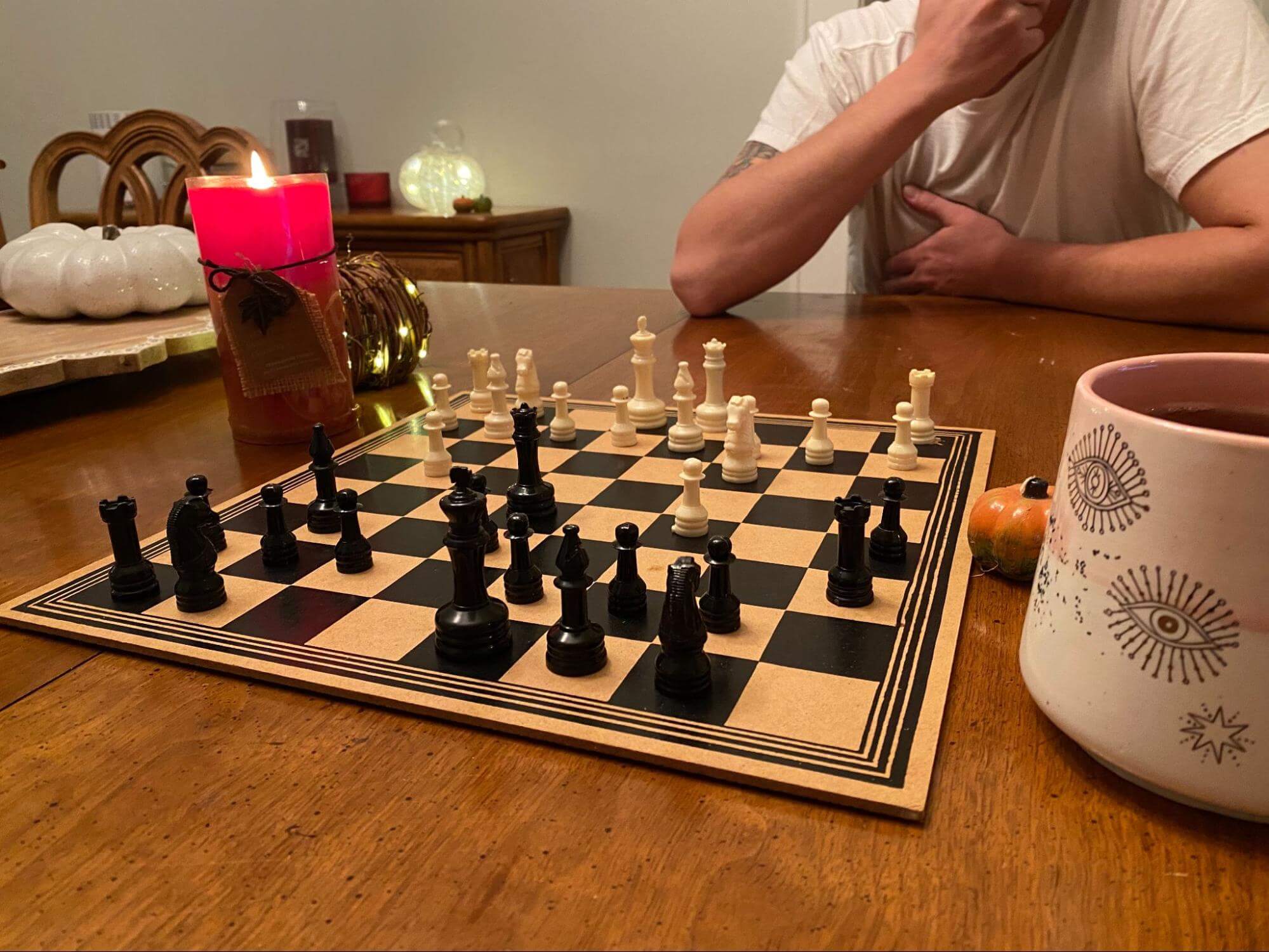 1. It's worth it to record your games so you can analyze them later
Kasparov diligently takes students through a variety of case studies to teach the importance that analysis plays in continuous improvement for chess players. If you can't re-watch what you did and how you did it, it'll be harder to improve.
2. Being mentally tough is more important than memorizing moves
It helps to memorize positions so that you can recognize another player's strategy, but it's more important to be able to think your way out of a corner while under pressure. This means not panicking, being quick to anger, or getting down on yourself. Stay strong.
3. You have to play with real pieces
This is one of the first pieces of advice that Kasparov gives in his course, and I'm so glad that he did. It helped me get better, faster, and provided a much needed break from screen time.
4. The Nimzowitsch-Larsen Attack is my favorite opening
Most chess players have a favorite opening, or an opening that they're known for. For now, I like the Nimzowitsch-Larsen Attack the best, because it's aggressive from the start.
5. You can practice chess by yourself
This might sound like a silly realization to anyone that's not a beginner, but I didn't know I could practice chess by myself. The times I practiced alone and the times I played with my boyfriend all taught me different things about my own chess game.
[Crack the Chess Code with Garry Kasparov]
Memorable quotes from this MasterClass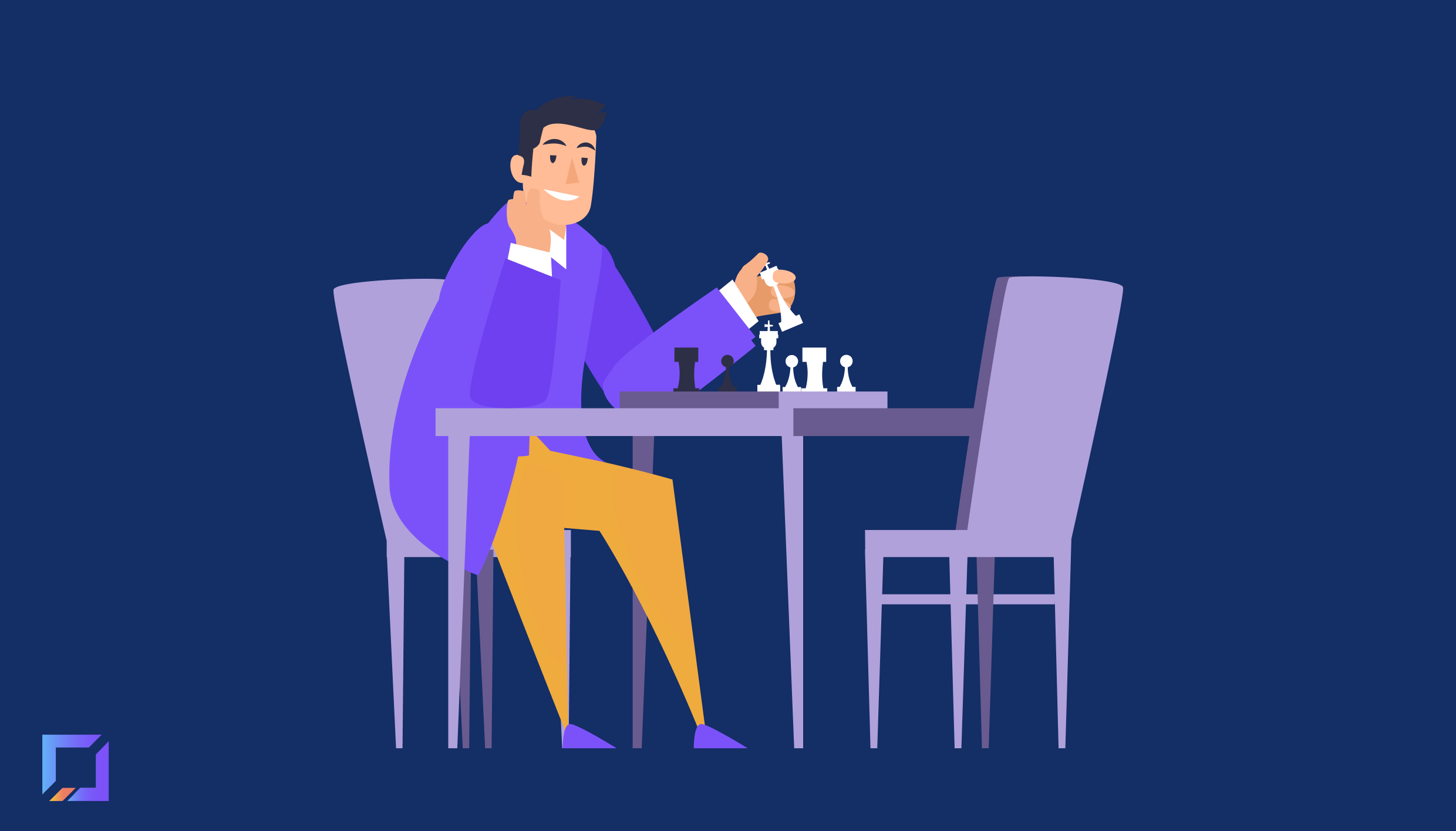 "If you panic, you lose the game."

– Lesson 2, Fundamentals
"If you won the game, it doesn't mean that you haven't made a mistake. Most likely it is because your opponent made the last mistake."

– Lesson 5, Skewers
"Tactics is knowing what to do when there is something to do, while strategy is knowing what to do when there's nothing to do."

– Lesson 25, How to Analyze
"Hard work is a talent because hard work means that you keep going, keep fighting. You know how not to quit under pressure, even if you fail. You don't succeed, but you keep going, pushing."

– Lesson 27, Mental Toughness
Garry Kasparov Masterclass pros and cons
When I sat down to write this, I couldn't really think of any cons — the one I've listed here is even a bit of a stretch.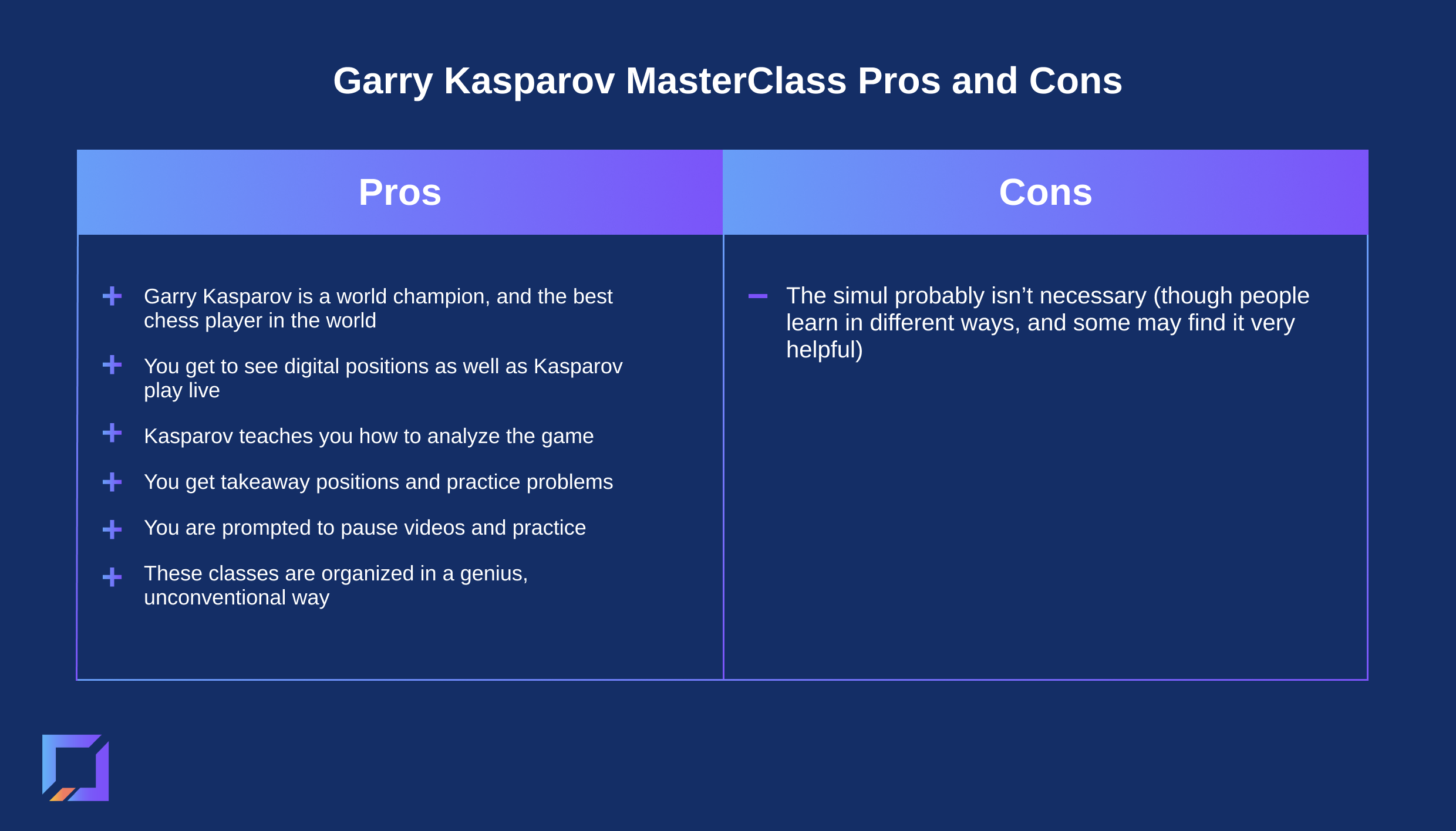 Pros
Garry Kasparov is a world champion, and the best chess player in the world
You get to see digital positions as well as Kasparov play live
Kasparov teaches you how to analyze the game
You get takeaway positions and practice problems
You are prompted to pause videos and practice
These classes are organized in a genius, unconventional way
Cons
The simul probably isn't necessary (though people learn in different ways, and some may find it very helpful)
Do I recommend this Masterclass?
Yes, I recommend the class for chess players at all levels — beginners and advanced players. Gary Kasparov's talent way of thinking about chess is unlike any other, and provides insights into analytical thinking and strategy as a whole, as opposed to just on the chessboard.