Grammarly has made a strong argument for being the best tool on the market. It has established itself so well to where many associate the excellence of grammar with Grammarly. How Grammarly has accomplished this in such a short amount of time requires a serious Grammarly review.
But one company stands in its way of being considered the best, and that is Gradeproof. Gradeproof has presented itself as no second-tier product. It promotes itself as being the top rate online grammar tool.
Let's evaluate both Gradeproof and Grammarly to see which one is to be recommended.
Disclosure: These reviews are reader-supported. We might earn a small commission if you purchase something through our site. Learn more
Our Verdict
Grammarly is the only clear winner in this race, easily besting Gradeproof across pretty much every grammar and plagiarism checking category.
Grammarly
Best All-Around
$11.66
/mo – before discount
PROS
86/86% accuracy
16+ billion database
150k+ word limit
5 device limit
1-hour response
CONS
Only English
Expensive without our link
GradeProof
Limited Features
PROS
Free trial
Multi-platform support
Easy sign up process
Impressive pro features
CONS
Limited free plan features
Constant ads
Limited customer support
Grammarly Premium Walkthrough Video
TABLE OF CONTENTS
Through the enhancement of technology, written grammar on platforms like social media, emails and in professional settings, is placing a greater emphasis on accuracy and expression. Due to this, the ability to express oneself accurately is vital in today's world.
While there are many tools available to assist in checking grammar and punctuation, grammar errors are commonplace and some of these tools create more of a hassle than good. When in search for the best sentence structure correction product, it is important to assess the statistics and reviews of the grammar tool under consideration.
To ensure that you utilize the best tool on the market, your verbal and written communication fluency is under constant scrutiny as it relates to how you are perceived. English grammar is always in need of proofreading prior to submission. A person's writing style has a tremendous impact as to which tool is best.
Gradeproof
Gradeproof is proofreading software that works well as an online grammar checker. This checker tool is a viable option in correcting spelling and grammar especially during those questionable moments when phrases may not be properly structured.
Gradeproof has an impressive lineup of platforms. These platforms include:
Web app
Google Documents
Word
IOS app
Chrome extension
One thing that is noticeable is that it offers a free trial membership. This gives consumers an opportunity to become familiar as to how the app works prior to gaining continuous access via the Pro membership. There is a full seven days that is available and you must add your payment information prior to entry.
With the Pro membership, there is an option to check for plagiarism for those innocent times when this may happen, so that you can protect yourself from an unfortunate error. This tool has impressed many.
Their sign-up process is really quick. You can create your own account within two minutes, and it allows you to select the language that will be primary for you. Grammarly is primarily for the English language. You can sign in with either Facebook, Google or an email address.
The AI-Driven Eloquence Engine is extremely popular amongst users. It uses artificial intelligence to enhance the expressiveness that is revealed in your style of writing. It provides deep analysis into your writing and provides guidelines on how to improve the structure that reduces unnecessary and inconsistent wording. It recommends simpler and understandable verbiage that makes reading the final product more enjoyable.
As a spell checker, each article is limited to 10,000 words, but there's no limit as to the amount of articles that you can submit for review, although the word limitation is looking to be done away with soon.
The trial version is very limited in its functions. It will only allow the very basics of its operations to be utilized. In some instances, mistakes that were caught utilizing Grammarly's free service were completely overlooked by Gradeproof's trial version. In addition, their customer support is limited also. If there is no answer to your question in the knowledge base, the remaining solution recommended is to send an email.
Grammarly
Writing in the English language poses its own challenges which is why Grammarly has stepped in as a legitimate grammar checker. But is it really a legitimate grammar, spelling, and plagiarism checker tool? Or is it an overpriced proofreading service? Let's delve further.
Grammarly web is very easy to use. You can easily integrate Grammarly to Word with the touch of a button, and the Grammarly support team is always on standby to assist you whenever needed.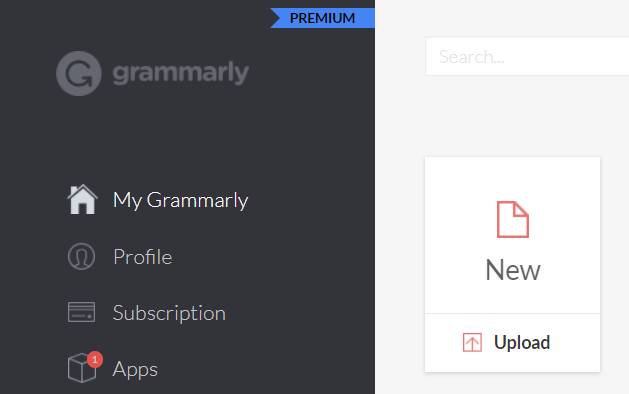 When using an android, the Grammarly keyboard works beautifully even with a free account. Free Grammarly is for those looking for a basic proofread.
While the free version of Grammarly works exceptionally well, the Grammarly Premium choice provides greater scrutiny when reviewing your documents. Grammarly offers the technology to make your written communication adaptable to your writing style while making spelling errors a thing of the past.
Grammarly looks to make grammatical errors old news. It is extremely accurate by drawing from its proprietary database that is in excess of 16 billion websites. It quickly identifies run-on sentences and follows up with plagiarism checks. It makes structuring sentences the central theme of representing you well.
It works well with Microsoft Word and Google Docs. As both are very popular compared to the Mac option. This grammar checking tool is an excellent add-on browser extension. Working with Grammarly in Google Docs is a seamless integration that will build upon your written skills easily and fluently as more are using Google Docs within the Microsoft operating system. If you need to, all you have to do is copy and paste any English text into the Grammarly editor and let the system take care of the rest.
The spell check is exceptionally accurate. It offers you options that can easily replace a misspelled word in an instant. Add Grammarly to Word and experience the difference. There is a Grammarly extension for the following:
To get started, you can try Grammarly for free. The Grammarly for Microsoft add-in is not only beneficial to Word but to Outlook as well.
Recommendation
After a thorough review of both, Grammarly is the clear winner across all categories.
It's the clear-cut leader in identifying spelling mistakes. Add Grammarly to your smartphone or desktop, and you will be prepared to always represent yourself well when communication calls for it. Grammar checking should be as fundamental as a morning routine.
Gradeproof vs Grammarly is difficult to evaluate, both are excellent tools. Establish your Grammarly account for free and begin improving your writing skills today. (And check out the ProWritingAid app if you're looking for a back up.)