Running a business is about cultivating, growing, and engaging an audience. Whether you offer goods, services, or entertainment, your brand needs to collect contacts, nurture connections, and drive people toward conversion.
There are tons of marketing tools out there to help with these steps, and ConvertKit and ActiveCampaign are two prominent email marketing solutions.
On the surface, these platforms have a lot in common; both offer email segmentation, landing pages, contact management, and more. But there are key differences that make one or the other more suited to certain businesses.
In this article, we'll cover ConvertKit and ActiveCampaign's features, pricing, strengths, and weaknesses. By the end, you'll have the knowledge to choose the right tool for your company.
Disclosure: These reviews are reader-supported. We might earn a small commission if you purchase something through our site. Learn more
Our Verdict
On the surface, ConvertKit and ActiveCampaign may seem similar. They can both be categorized as email marketing tools. But when you dig into their capabilities, ActiveCampaign is the stronger product with its wider range of marketing and sales automation features.
TABLE OF CONTENTS
ConvertKit overview
Founded in 2013, ConvertKit was created and marketed as a way for creators to collect emails and communicate with their followers.
This email marketing software specializes in one-person shops and online creators, and its website highlights independent musicians, writers, and YouTube personalities. This focus on individuals and artists is reflected in the company's mission: "​​We exist to help creators earn a living."
The platform focuses on making email marketing easier for people who aren't trained marketers, so ConvertKit touts its ease of use and simplicity.
ActiveCampaign overview
ActiveCampaign began as a marketing consultant business in 2003 and grew into a software as a service business. Today, it's a comprehensive marketing automation platform that includes email marketing, CRM and sales automation, and customer experience automation.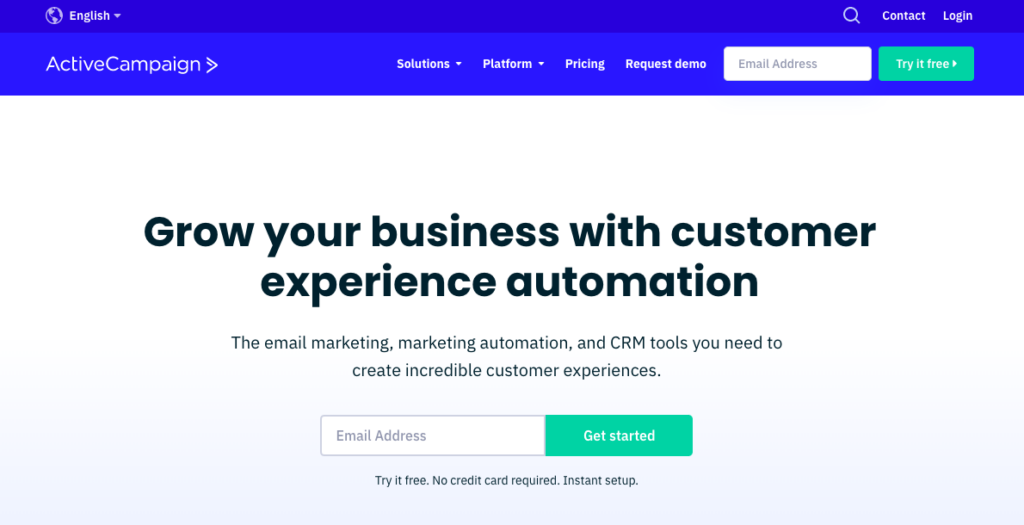 ActiveCampaign has more than 150,000 customers worldwide, ranging in size from one-person shops to small to medium-sized businesses and enterprise brands. With their more advanced and diverse feature set and broader customer base, ActiveCampaign's mission is to "Help growing businesses make meaningful connections with their customers."
ConvertKit features
As noted above, ConvertKit's central features are its ability to collect email addresses through landing pages and embedded signup forms and send marketing emails to subscriber lists.
Contact management
At its core, ConvertKit exists to help you build an email list and communicate with those subscribers. You can tag the subscribers in ConvertKit or automatically add tags based on form selections of which links they click. Only the highest-tier plan, Creator Pro, offers subscriber scoring, which can be very important for longer sales cycles.
ConvertKit customers can also use filters to create audience segments or exclude subscribers from certain messages.
Landing pages and forms
ConvertKit offers users a range of templates to create landing pages. It can be difficult to change the structure of the landing page templates, but the templates do allow you to start collecting email addresses with little to no technical skills.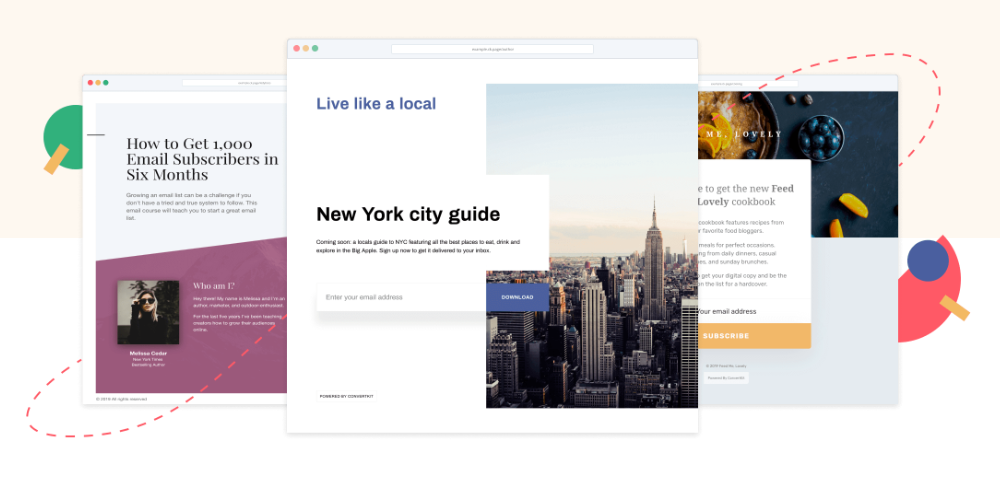 Users can also embed ConvertKit signup forms onto their own webpages. ConvertKit's unlimited landing pages and forms allow small businesses to get creative with specialized conversion paths.
Email
The user-friendly email designer was created for people with little email marketing experience. The in-line email editor makes it easy to see how your email will appear to recipients as you make changes.
ConvertKit users have access to templates and can build simple automations. ConvertKit also allows for A/B testing and basic reporting (opens, click-through rates, conversion rates, etc.).
Automation
ConvertKit provides email automation for beginners, which works well for drip campaigns and simple email nurture campaigns. Because ConvertKit focuses almost exclusively on email, however, it doesn't allow you to build multi-channel automations.
Bloggers and other writers can benefit from automatically generated broadcast emails that use RSS feeds to notify subscribers of new content.
Integrations
ConvertKit has official integrations for dozens of different apps, including Squarespace, Teachable, Shopify, monday.com, Typeform, and Wix. Third-party integrations, however, aren't included in the free plan.
Customer support
ConvertKit's customer support varies for each plan. Users of the Free plan only have access to the user community, where they can ask questions of other customers. Both paid plans include live chat and email support, with Creator Pro receiving priority service.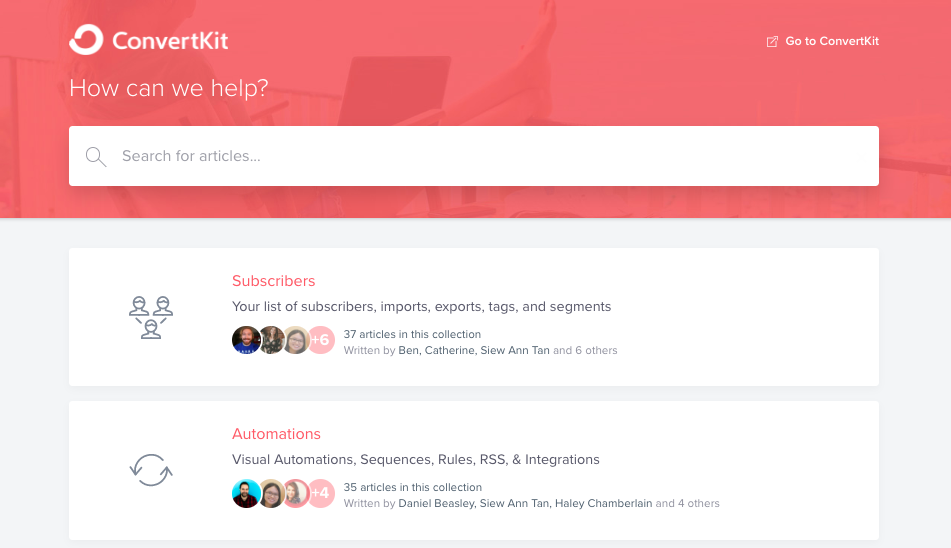 ActiveCampaign features
ActiveCampaign is a comprehensive marketing automation platform and CRM. Along with email marketing, it allows you to create multichannel and omnichannel customer experiences and marketing campaigns.
CRM
Many businesses must choose their marketing tools based on what integrates with their CRM software. ActiveCampaign makes this simpler by offering its own sales CRM with segmentation, lead scoring, and sales tasks and notifications.
Unlike ConvertKit's basic subscriber data, ActiveCampaign's CRM has detailed account records with behavior tracking. This enables more advanced personalization and automation efforts.
Email
ActiveCampaign can deliver all kinds of email messages, including monthly newsletters, promotional emails, and autoresponders. The platform can also handle your transactional emails, including confirmation emails, receipts, and payment reminders.
Users can create custom emails with the drag-and-drop designer or take advantage of more than 250 email templates. ActiveCampaign users can also add personalization fields to emails, referencing any contact information they have.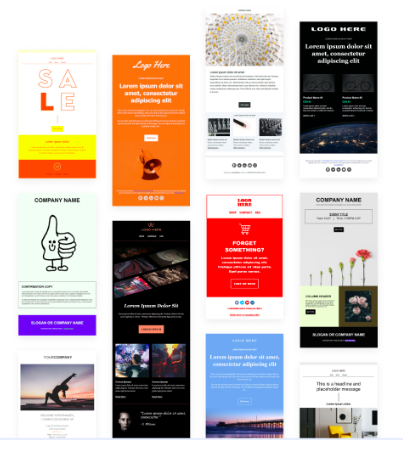 Automation
Marketing and sales automations are some of ActiveCampaign's most valuable features. The simple interface allows you to build your own automations using a wide variety of behavioral and time-based triggers. ​​
ActiveCampaign has 800 pre-made automation "recipes" to help any business get started. With just a few clicks, you can set up welcome emails, nurture campaigns, or abandoned cart emails.
Because ActiveCampaign has a CRM and integrates with social media, you can create automated customer experiences that span different channels. For example, an action the customer takes on Facebook could trigger a targeted email.
Integrations
ActiveCampaign offers more than 870 integrations. For content management systems, integrations include WordPress, Squarespace, and Drupal. For ecommerce businesses, there are pre-built integrations for Big Cartel, BigCommerce, eBay, WooCommerce, Shopify, and ShipStation.
ActiveCampaign also integrates directly with social media platforms, like Facebook and Pinterest, as well as social media management tools, like Buffer and Bambu.
Customer support
All ActiveCampaign users have access to live chat, email support, and data migration services. All plans except the most basic one also offer custom email design services.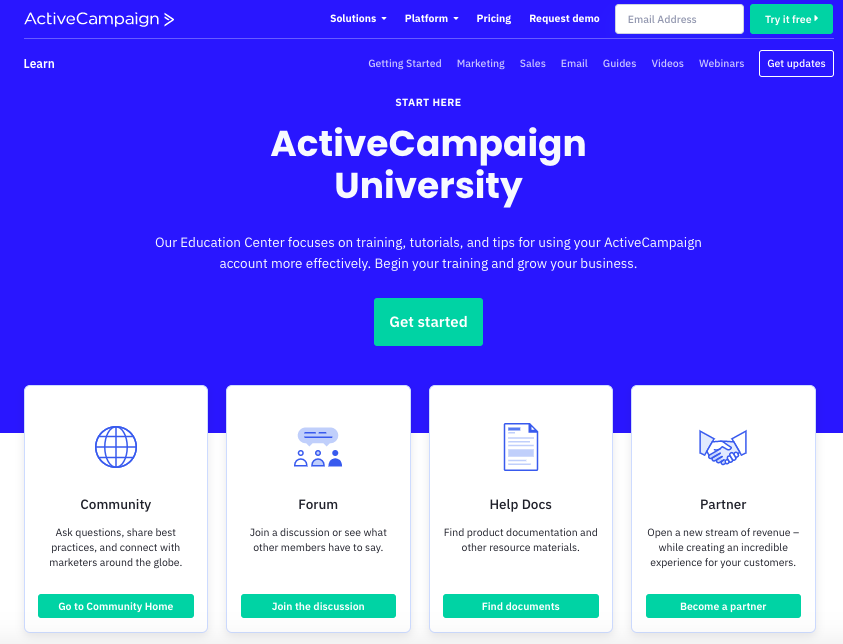 Users can also access ActiveCampaign training content, developer resources, and community forums. Thorough onboarding courses walk new customers through setting up and getting started with the platform.
ConvertKit pricing
ConvertKit has three plans, one of which is free. The cost of the paid plans depends on how many email subscribers a customer has.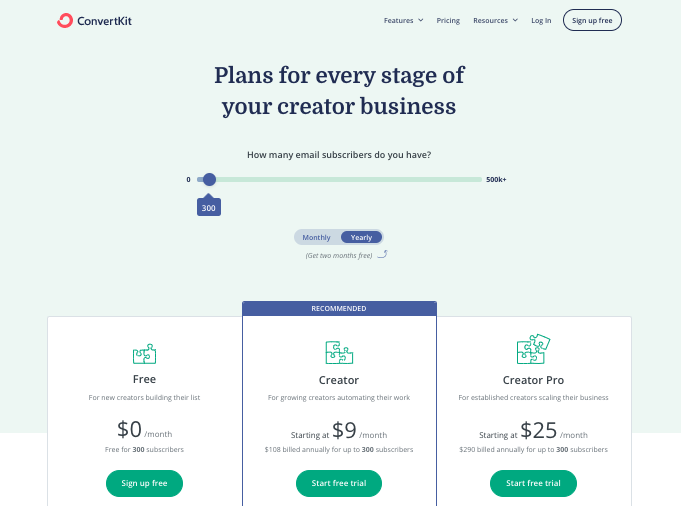 Here's a look at each plan that ConvertKit offers:
Free: You can use the Free plan for up to 1,000 subscribers. This plan includes unlimited landing pages and opt-in forms, as well as audience tagging and segmentation. The Free plan doesn't include automated email sequences, third-party integrations, or any additional users.
Creator: The Creator plan starts at $9 per month for up to 300 subscribers (if you pay annually). The price increases with the number of subscribers; for instance, if you have 1,000 contacts, it's $25 per month, and for 10,000 contacts, it's $100 per month. The Creator plan includes integrations, automated email sequences, and one additional user.
Creator Pro: The Creator Pro plan starts at $25 per month for up to 300 subscribers and increases with your contact list. For 10,000 subscribers, the cost is $140 per month. The Creator Pro plan includes everything in the Creator plan as well as a newsletter referral system, subscriber scoring, and advanced reporting.
ActiveCampaign pricing
ActiveCampaign offers four different plans and pricing options. These plans have a baseline monthly price for a certain number of contacts, with additional charges for additional contacts. A big plus is that all ActiveCampaign plans come with data migration services.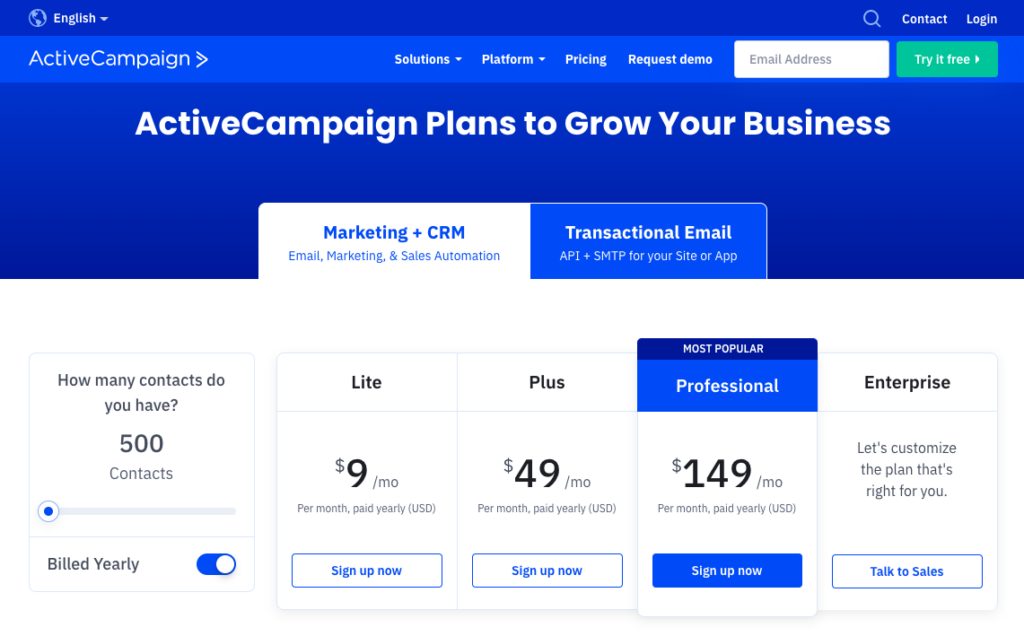 Here's a look at what each ActiveCampaign pricing plan offers:
Lite: The Lite plan starts at $9 per month for the annual plan or $15 per month for the monthly plan for up to 500 contacts. It includes unlimited email sends, segmentation, opt-in forms, marketing automation, site and event tracking, and email and automation reporting. The Lite plan includes one user as well as hundreds of integrations and automation recipes.
Plus: The Plus plan takes your marketing and email initiatives to the next level, starting at $49 per month for up to 1,000 contacts. It includes everything in the Lite plan plus landing pages, SMS marketing, and up to 3 users with custom user permissions. The biggest advantage of the Plus plan is that it comes with a CRM with sales automation.
Professional: At $149 per month for up to 2,500 contacts, ActiveCampaign touts the Professional plan as their most popular. It includes everything in the Plus plan but with more advanced personalization and reporting and up to 5 users. Some of those features include predictive content, predictive sending, sales engagement automation, and integrations with Salesforce.
Enterprise: For large businesses, the Enterprise plan includes up to 10 users and more advanced customization, enrichment, and free design services. Reach out to ActiveCampaign to discuss custom pricing for the Enterprise plan.
ConvertKit vs ActiveCampaign reviews
Reviews from real customers give us insights into ConvertKit and ActiveCampaign.
While ConvertKit scores slightly higher on ease of use, ActiveCampaign wins on customer support. And when it comes to overall product ratings, ActiveCampaign (4.6/5 stars) beats ConvertKit (4.4/5 stars).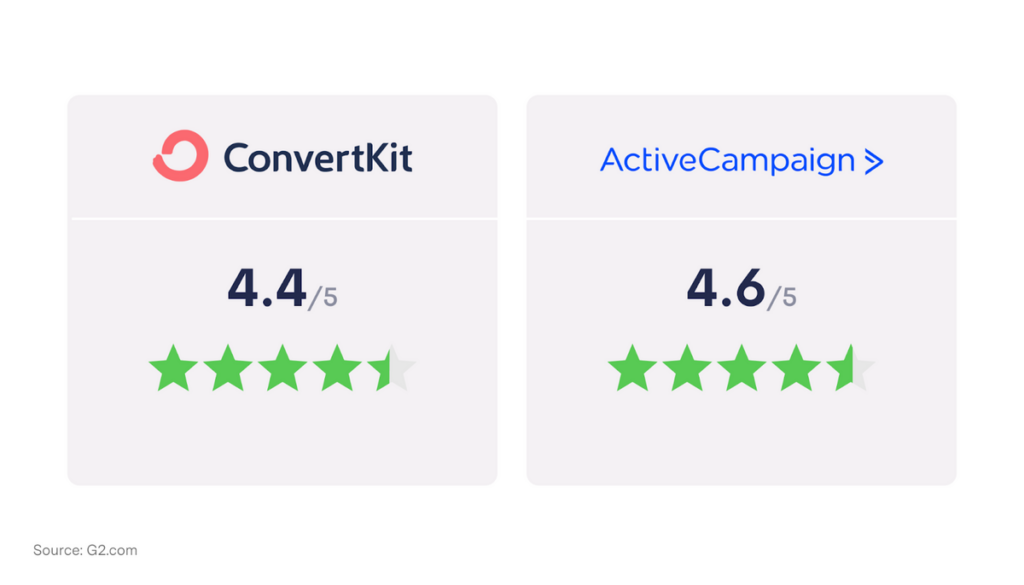 ConvertKit customers say they like the intuitive user experience but note that costs add up quickly with the tool's pricing structure. ActiveCampaign customers say they love how much the platform allows them to do in just one tool, but the power of the platform comes with a higher learning curve.
The feature gap between ActiveCampaign and ConvertKit
It's tough to compare these products feature by feature because ActiveCampaign offers so many features that ConvertKit doesn't. Here are a few of the main functionality gaps:
CRM
While ConvertKit allows you to build an email list and tag subscribers, ActiveCampaign offers a full sales CRM. This allows you to market to contacts more precisely because you have all the important account information on hand. The built-in CRM software also allows you to automate lots of small or tedious sales tasks.
Email
A core functionality that ConvertKit and ActiveCampaign share is email marketing automation. ConvertKit makes it easy for creators to build basic marketing emails with templates. But ActiveCampaign gives you access to a full range of email communications: transactional emails, newsletters, nurture campaigns, autoresponders, and more.
ActiveCampaign emails can also incorporate conditional content based on the recipient's interests and behavior.
Automation
ConvertKit allows you to set simple rules and create basic automated sequences, such as a drip campaign. While that's a great start for someone just building an audience, a growing business needs more.
Marketing and sales automation in ActiveCampaign enables even small teams to implement comprehensive, dynamic marketing and sales campaigns. With hundreds of automation workflow recipes, ActiveCampaign makes it easy to create consistent and customized customer experiences with just a few clicks.
Who is ConvertKit best for?
ConvertKit is best for individual creators and very small businesses. If you want to start building an email list with little design expertise and without spending much, ConvertKit is a good option.
Who is ActiveCampaign best for?
ActiveCampaign has a range of plans for different-sized businesses, but even the Lite plan provides much more functionality than ConvertKit. If you're looking for a tool that can give you powerful email marketing capabilities or you want to use advanced automations to get more done, ActiveCampaign is a smart choice.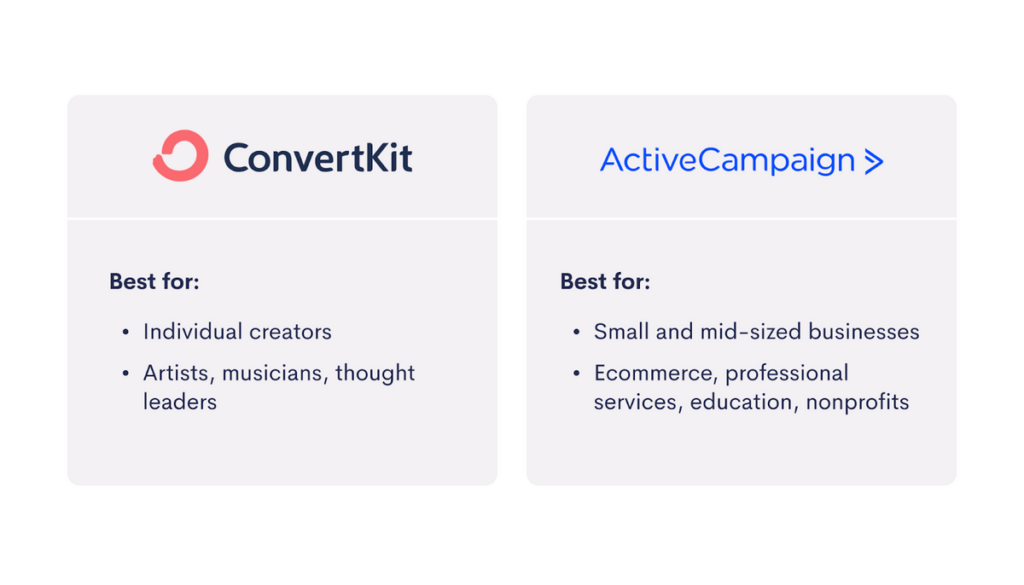 Read our in-depth ActiveCampaign review to help you decide whether this marketing automation platform is right for you.
ActiveCampaign outperforms ConvertKit
On the surface, ConvertKit and ActiveCampaign may seem similar. They can both be categorized as email marketing tools. But when you dig into their capabilities, ActiveCampaign is the stronger product with its wider range of marketing and sales automation features.
ConvertKit makes sense for a small creator who wants an intuitive way to communicate with their audience. ActiveCampaign, on the other hand, is a powerful, comprehensive marketing platform for businesses of all sizes.
To see what ActiveCampaign empowers you to do, start a 14-day free trial.